---
---
Free Patterns
Babies/Kids
Adult Clothing
Other Patterns
---
Knitters Will Love...
---
Learn To Knit
Casting On (CO) Casting on is necessary to begin knitting so you can get stitches on your needle; you will find other uses for it as well such as in shaping a knitting project. Cable Cast On
This method doesn't require you to guess how much yarn you need to have such as with the long tail cast on. You will find it very useful when you need to cast on stitches at the end of a row or to cast them on over stitches that you have bound off (such as a buttonhole). It's similar to the Knit Cast On, for which you will also find instructions. Twisted German Cast On
This is a great cast on particular for socks. It has an elastic edge that looks very neat. Twisted Purl Cast On
This provides a firm edge and is decorative on both sides. It's a good choice for a scarf or shawl.


Need more knitting instructions?

Knitting Help: Learn to Knit




The Complete Idiot's Guide To Knitting
& Crocheting (3rd edition)
by Barbara Breiter & Gail Diven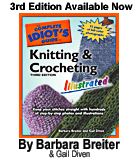 Available in book stores everywhere.
Order from Amazon now!
List Price: $16.95 Amazon Price: $11.87




The Complete Idiot's Guide To Knitting and Crocheting, has been a world wide best seller. The third edition was published September, 2006 and is available in bookstores everywhere. Information on the book and a preview of the patterns included is available at Knit A Bit.