---
---
---
Free Patterns
Babies/Kids
Adult Clothing
Other Patterns
---
Knitters Will Love...
---
Welcome to your source for free knitting patterns, Barbara Breiter's KnittingOnTheNet.com. Browse through the categories on the left; whether you are just learning to knit or an old pro, you will be sure to find a knitting pattern you'll love.

Please also visit my other site, Knit A Bit, featuring knitting patterns for felted bags, hats, sweaters, knitting wisdom, and much more.
I'm now offering my five most popular knitting bag patterns in one collection.
Over 80 Knit A Bit patterns are available!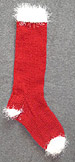 Christmas Patterns! Stockings, quick to knit ornaments, and so much more.


Holiday Gift Tags! Your hand knit gifts deserve special gift tags.


Pokeman Chart! Chart will fit a child's sweater or blanket. There's also a smaller chart with a different design here.


3 new free stitch patterns! Brioche Rib and Seed Rib are reversible and Hunter's Stitch is very pretty on the wrong side as well. Check out over 140 stitch patterns in the Knitting Stitch Patterns Library.


New free pattern! Easy to knit felted bag; the multi directional stripes are simple with self striping yarn.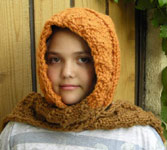 New free pattern! Quick to knit scoodie for kids and adults.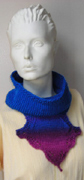 New free pattern! Unique cowl highlighted by decorative knit medallion.


New free pattern! Adorable rocking horse baby blanket with lots of possible variations. Or just knit one repeat on almost any baby project!


---
See what else is new at KnittingOnTheNet.com!
---
Knitting Stitch Patterns
Over 135 stitch patterns, categorized by type of pattern. Many include a link to a free pattern using the stitch. Turn a plain project into an extraordinary one! Yarn Shop Reviews
If there's one thing knitters love almost as much as knitting, it's shopping for yarn. If you're going to be traveling, don't miss the Yarn Shop Reviews (submitted by customers).
---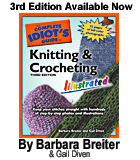 My book, The Complete Idiot's Guide To Knitting And Crocheting (3rd edition) is available in stores everywhere. Learn how to knit and crochet step by step and then add additional skills to your repertoire to take you to the next level and beyond. It also serves as an excellent reference. Order from Amazon and save! Enjoy and Happy Knitting!