---
---
Free Patterns
Babies/Kids
Adult Clothing
Other Patterns
---
Knitters Will Love...
---
Knitting Stitch Patterns
Squares In Squares Stitch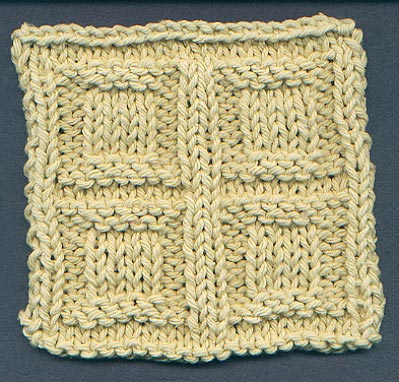 This stitch pattern is reversible but not identical as the wrong side is opposite of the right side. It lies flat as well so would work well as a scarf or afghan. Multiple of 10 + 2 Row 1 (RS): K
Row 2: P
Row 3: k2, *p8, k2; rep from *
Row 4: p2, *k8, p2; rep from *
Row 5: k2, *p2, k4, p2, k2; rep from *
Row 6: p2, *k2, p4, k2, p2; rep from *
Rows 7 and 9: Rep Row 5
Rows 8 and 10: Rep Row 6
Row 11: Rep Row 3
Row 12: Rep Row 4 See Abbreviations and the Glossary for help.