---
---
Free Patterns
Babies/Kids
Adult Clothing
Other Patterns
---
Knitters Will Love...
---
Knitting Stitch Patterns
Two By Two Rib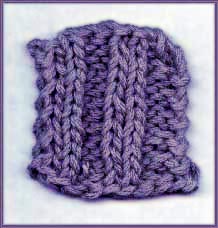 Multiple of 4 Row 1: k2, p2 Repeat this row. It can also be worked over a multiple of 4 + 2:
Row 1: *k2, p2; rep from *, end k2
Row 2: *p2, k2; rep from *, end p2
Rep these 2 rows. See Abbreviations and the Glossary for help.