---
---
Free Patterns
Babies/Kids
Adult Clothing
Other Patterns
---
Knitters Will Love...
---
Beginner Ruana Or Stole Knitting Pattern
Designed by Barbara Breiter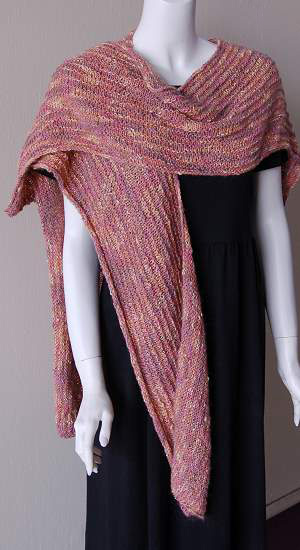 Very easy knitting pattern for beginners because there is no shaping...yet it's stylish enough for advanced knitters. The sides of this ruana (or stole, wrap or shawl) can be left open or seamed in two ways, offering versatility. Size:
57½ inches long, back 26 inches wide, each front 10 inches wide, neck 6 inches wide Gauge:
14 sts and 28 rows over pattern stitch (slightly stretched) with one strand of Kid Merino and Waikiki held together Materials:
Size 9 US (5.5 mm) 29" circular needles or size needed to obtain gauge
Waikiki by Crystal Palace Yarns
9 balls - Color 2720 Floral
62% viscose/38% cotton
50 grams/1.75 ounces
105 yds/96 meters
Kid Merino by Crystal Palace Yarns
4 balls - Color 4683 Canyon
28% kid mohair/28% merino wool/44% micro nylon
25 grams/.9 ounces
240 yds/219 meters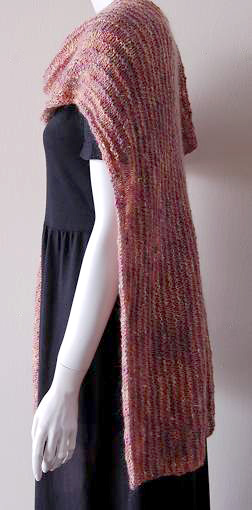 Instructions Pattern Stitch
Row 1 (RS): Knit
Row 2: Purl
Row 3: Knit
Row 4: Knit Rep rows 1-4 for pattern st. Note: Entire pattern is knit with one strand of each yarn held together. First Front and Back
CO 210 sts. Complete rows 1-4 of pattern st 18 times. Divide For Back and Neck
BO 105 sts. Cont in pattern st (you are continuing to work the back) over rem 105 sts. Complete rows 1-4 of pattern st 9 times, then work rows 1-3 of pattern st.
Next row: Work row 4 of pattern st. Using the Cable Cast On or Knit Cast On, CO 105 sts for beginning of Second Front. Second Front and Back
Complete rows 1-4 or pattern st 18 times. BO. Finishing
Weave in ends on WS. Block if needed or work one row of sc around edges with Waikiki.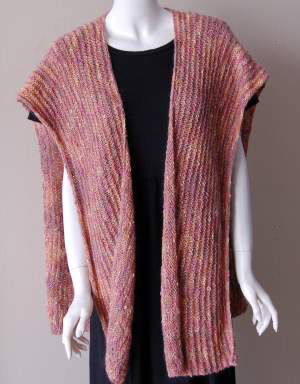 Alternative Finishing
Seam each front to the back at the side seam anywhere from 8 to 20" from the bottom edge up. Pin the fronts to the back before seaming to determine where you would like the seam to end. If you have trouble seaming with these yarns, use a smooth yarn of a similar color. You may also cut strands of yarn, thread them through the side seams with a tapestry needle and tie in a bow. Use the number of bows desired. This way, the sides aren't seamed permanently and you can wear your new wrap two different ways. ©Barbara Breiter. This design may not be reproduced in any manner without the expressed written consent of the author. See Abbreviations and the Glossary for help.
---
Also see Knit A Bit, for patterns by Barbara Breiter
---