---
---
Free Patterns
Babies/Kids
Adult Clothing
Other Patterns
---
Knitters Will Love...
---
Odd Ball Vest Or Sleeveless Shell Pullover Knitting Pattern
Designed by Barbara Breiter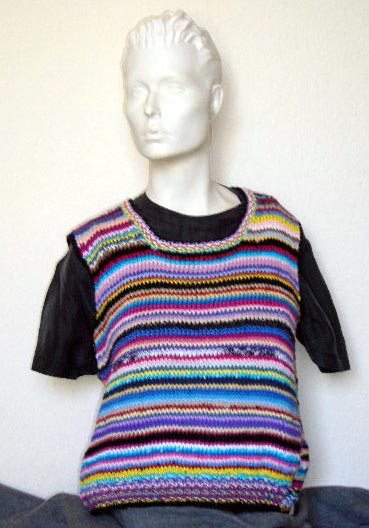 You can wear this as either a vest or a sleeveless shell. It has a scoop neck in the front. If you plan to wear it as a shell, you can knit the back the same as the front if you wish for a scoop in the back as well. Size:
Medium
Finished chest measurement 38" Gauge:
18 sts=4" in St st with larger needles
Sweater is knit with short lengths of yarn so you may occassionally use yarn that does not work to this exact gauge. Materials:
Size 6 US (4.25 mm) needles
Size 8 US (5 mm) needles
Worsted weight yarn in various shades. Consider a definite color scheme such as pastels, shades of green, or bright, saturated colors. Instructions
There is no set way to knit each row. Feel free to improvise as you knit. Knit with lengths of yarn about 3 to 12 feet. Work in St st until the color runs out and change to a new color yarn. Back
With smaller needles, CO 76 st.With different colors for each row, work k1, p1 ribbing 2½".
Inc 10 sts evenly over last row - 86 sts.
Change to larger needles and work in St st over pattern for 13" or to desired length.
BO 5 sts beg next 2 rows -76 sts.
Work armhole 8" or to desired length.
BO 22 sts beg next two rows.
BO rem sts. Front
Work same as Back until armhole reaches 5".
Work 29 sts. Place rem sts on holder.
At neck edge, dec 1 st every other row 7 times - 22 sts. Work until armhole measures same as Back.
BO.
Place sts from holder back on needle.
BO 18 sts for neck; work rem 29 sts same as other side. Finishing
Seam shoulders.
Work one round single crochet around neck and armholes.
Seam sides. Weave in ends on WS. ©Barbara Breiter. This design may not be reproduced in any manner without the expressed written consent of the author. See Abbreviations and the Glossary for help.
---
Also see Knit A Bit, for patterns by Barbara Breiter
---