---
---
Free Patterns
Babies/Kids
Adult Clothing
Other Patterns
---
Knitters Will Love...
---
Man's Lattice Sweater
Designed by Nancy Salcedo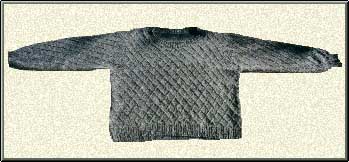 The Lattice pattern makes a nice fabric. It has a 16 stitch repeat. The sweater has a crew neck, and square inset sleeves which are picked up and knitted from the top down. Size:
Meduim/Large
Finished Chest: 49.5"
Finished Length: 26"
Sleeve Length: 24"
Materials:
Sizes 3 and 6 needles US or whatever size achieves gauge
1400 meters of worsted weight yarn; I used Garnstudio Karisma 30% angora, 70% wool
Gauge:
5.2 stitches and 6.4 rows to the inch using size 6 needles in knit-twist lattice Knit-Twist Lattice (From A Second Treasure of Knitting Patterns, by Barbara Walker) Row 1- and all wrong side rows: Purl
Row 2- K1, *LT, k4, RT* rep from *, end, k1.
Row 4- K2, *LT, k2, RT, k2; rep from *
Row 6- K3, *LT, RT, k4; rep from *, end last rep k3.
Row 8- K4, *RT, k6; rep from *, end last repeat k4.
Row 10- K3, *RT, LT, k4; rep from *, end last repeat k3.
Row 12- K2, *Rt, k2, LT, k2; repeat from *
Row 14- K1, *RT, k4, LT; repeat from *, end k1.
Row 16- K8, *LT, k6; repeat from *, end k2.
Repeat Rows 1 - 16. LT- Left Twist: with right-hand needle behind left-hand needle, skip one st, and knit the second st through the back loop; then insert right-hand needle into the backs of both stitches, and knit 2 together through the back loop. RT- Right Twist: K2 together,leaving stitches on the left-hand needle; insert right-hand needle from the front between the 2 stitches just knitted tog, and knit the first stitch again; then slip both stitches from needle together. Seed Stitch Row 1- k1, p1 across row Row 2 and all other rows- purl the knit stitches, knit the purl stitches Instructions: Back: Using size 3 needles, cast on 116 stitches and work in k1, p1 ribbing for 2.5", ending with right side facing.
Evenly increase 14 stitches across the next rib row (130 stitches).
Change to larger needles and begin Knit-Twist Lattice (row 1, wrong side).
Continue working the 16 row pattern until back measures 14" (or desired length). Armhole Shaping: Bind off 16 stitches at the beginning of the next 2 rows (98 stitches remaining). Continue in pattern until piece measures 24.5". Shoulder Shaping: At the beg of the next 8 rows, bind off 9 stitches. At the same time, after 6 shoulder shaping rows bind off the center 26 stitches. Finish remaining shoulder rows. Front: Work as for back until front measures 21.5 inches. Neck Shaping: With right side facing bind-off the center 18 stitches, join a second ball of yarn and work both sides at the same time. Bind off 2 stitches at each neck edge once, bind off one stitch at each neck edge once. Work shoulder shaping as for back. Neckband: Sew right shoulder seam. With right side facing and smaller needles pick up about 102 stitches evenly around neck. Work k1, p1 ribbing for about an inch; bind-off loosely. Sew left shoulder. Sleeves: With larger needles, pick-up 112 stitches evenly along sleeve edge.
Work Seed Stitch for about 1.5".
Begin Knit-Twist Lattice on a wrong side row increasing 1 stitch each side 2 stitches in from the edge (114 st).
Work 14 rows of pattern straight. Row 15 begin decreases: Decrease 1 stitch at each edge every 6th row, 15 times; then decrease 1 stitch at each edge every 4th row (total of 46 stitches decreased, leaving 68 stitches). Continue until sleeve measures 22' (or whatever length works for you).
With right side facing, decrease 16 stitches evenly across the row.
Work 1 purl row.
Next row, with smaller needles work k1, p1 ribbing, evenly decreasing 8 stitches.
Work 2" in k1, p1 ribbing. Bind off. Block sweater. Sew seams. See Abbreviations and the Glossary for help.