---
---
Free Patterns
Babies/Kids
Adult Clothing
Other Patterns
---
Knitters Will Love...
---
Striped Poncho Knitting Pattern
Designed by Barbara Breiter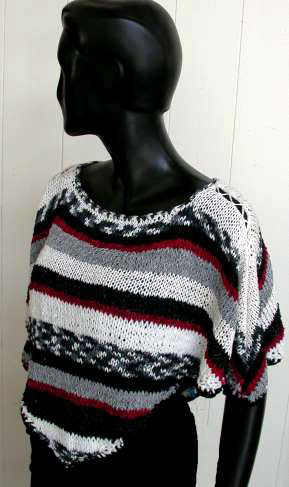 The optional shoulder finishing and construction of this poncho is unique as it features knit rectangles instead of usual rectangles. Gauge:
14 sts=4" in St st on average
Note: Resulting fabric will be loose and drape considerably; this is intentional. Size:
Finished size Approximately 18" long and 43" wide at the top.
One size fits most women.
Materials:
Size 11 US (8 mm) 35" circular needle
Size H-8 (5 mm) crochet hook
1 ball each:
Summer Net by Crystal Palace Yarns
45% nylon, 36% polyester, 19% cotton
74 yards/50 grams
#3209 Ivory (Color D)
#4315 Newsprint (Color E)
Choo-Choo by Crystal Palace Yarns
52% rayon, 30% polyester, 18% nylon
92 yards/50 grams
#1701 Black (Color F)
#1610 Summer Heat (Color G)
Mikado Ribbon by Crystal Palace Yarns
50% rayon, 50% cotton
112 yards/50 grams
#1804 Black (Color A)
#1795 White (Color B)
#7307 Shadows (Color C) Instructions
Make 2
Work over this color sequence throughout:
Color C - 10 rows
Color D - 4 rows
Color F - 8 rows
Color G - 2 rows
Color E - 4 rows
Color A - 4 rows
Color C - 8 rows
Color D - 6 rows
Color G - 2 rows
Color F - 4 rows
Color B - 6 rows
Color E - 5 rows
Color G - 2 rows
Color A - 3 rows
Color C - 4 rows
Color B - 6 rows With Color C, CO 3.
Row 1: K3
Row 2: K1, (p1, k1, p1) in next st, k1 - 5 sts
Row 3: k1, p1, yo, k1, yo, p1, k1 - 7 sts
Row 4: k1, p1, yo, p3, yo, p1, k1 - 9 sts
Row 5: k1, p1, yo, k5, yo, p1, k1 - 11 sts
Row 6: k1, p1, yo, p7, yo, p1, k1 - 13 sts Cont as est, knitting or purling two more sts between the yo's on every row. For the last 6 rows of the color sequence with Color B, work 2 rows as established (149 sts). Keeping to pat, work 57 sts. Turn. Keeping to pat, work 3 more rows over these sts only. BO. Cut yarn.
Attach yarn at neck edge. BO 34 sts. Keeping to pat, work 4 rows over rem sts. BO.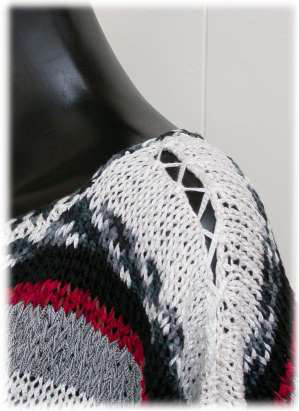 Finishing
With RS tog, beg at neck edge with Color B work overcast X's over 3 sts, 1 st apart. Work 6 X's, ¾" in length. Seam remainder of shoulders tog.
Repeat for other shoulder.
If desired, shoulders can be seamed together.
With C, work 1 rnd of single crochet around neck.
With A, work 2 rnds of single crochet around outside edges, working 3 single crochets in the four points.
Weave in ends on WS.
If necessary, wet block and pin to shape. ©Barbara Breiter. This design may not be reproduced in any manner without the expressed written consent of the author. See Abbreviations and the Glossary for help.
---
Also see Knit A Bit, for patterns by Barbara Breiter
---