---
---
Free Patterns
Babies/Kids
Adult Clothing
Other Patterns
---
Knitters Will Love...
---
Socks For Children, Women, and Men Knitting Pattern
Designed by Joan Fernbach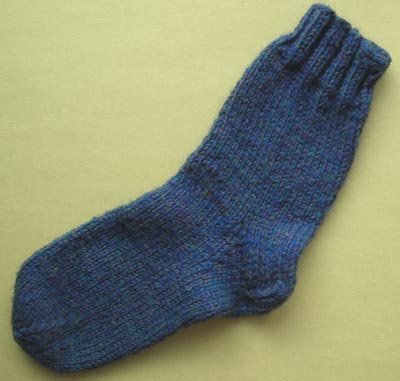 Knit by Barbara Breiter

Sizes:
Children's size 2 (women's size 9, men's size 11) Gauge:
20 sts=4" in St st Materials:
One skein Wool-Ease by Lion Brand for women's size
Size 6 US (4.25 mm) set of 4 double point needles Instructions Use up leftover yarn by making multicolor stripes, make heels and toes a different color, use a two color slip stitch pattern for the ankle part, use any two or four stitch texture pattern for the ankle part and/or the top of the foot part, make entire ankle part in rib, etc. Instructions are for women's size with men's size and children's size in parentheses. CO 40 (48, 32) sts, dividing them on three needles as follows:
10-20-10 (12-24-12, 8-16-8).
Join, being careful not to twist.
Work k2, p2 ribbing for 2 (2, 1½) inches.
Continue in St st or pattern until piece measures 6 (8, 4½) inches, or desired length. Begin Heel Flap
Work across first needle. Turn.
Now, working back and forth only on the sts on the two needles with fewer stitches (combining them on one needle if you feel more comfortable) and turning the work each row:
P one row (wrong side). Slip 1, knit 1 for one row (right side) until you can count 7 (8, 6) larger stitches up the slip one rib - 14 (16, 12) rows.
End with a wrong side row (right side facing you ready to begin). Turn Heel
Slip 1, knit 12 (14, 9), slip 1, knit 1, pass slipped stitch (psso) over knit stitch, turn.
Slip 1, purl 6 (7, 4), p2tog, turn.
Slip 1, knit 6 (7, 4), slip 1, knit 1, psso, turn.
Repeat last two rows until all stitches have been worked, then work right side row. Gussets
Pick up 10 (12, 8) sts on left side of flap, work across stitches on center needle, pick up 10 (12, 8) sts on right side of flap. Knit half the heel stitches onto this needle, put the other half onto the needle where you picked up the first group of stitches. Knit one row around. Decrease Rnd
Knit to within 3 sts of end of first needle, slip 1, knit 1, psso, knit 1.
Work center needle.
On third needle, knit 1, k2tog, finish row.
Knit one rnd even.
Rep these two rnds until you are back to the number of stitches you cast on (40, 48, 32). Knit around until 8½ (10, 6½) inches, or about 1½ inches short of desired length of foot. Work across first needle so that you are ready to start with center needle. Toe
Decrease Rnd:
Center needle: Knit 1, k2tog, knit to 3 sts from end, slip 1, knit 1, psso, knit 1.
Needle 2: Knit 1, k2tog, knit to end.
Needle 3: Knit until 3 sts from end, slip 1, knit 1, psso, knit 1.
Work one round even.
(Stitches from Needle 2 and 3 may be put onto one needle if you find it easier; if so, decreases would happen at beginning and end of that needle.)
Repeat these two rounds until you have 16 (24,12) stitches left altogether.
Weave toe together using Kitchener stitch. Joan Fernbach, I hereby give my permission for this pattern to be used for personal use, sharing with friends, posting on the Web, printing in a knitlist pattern book, and any other, except selling it or claiming it as your own. See Abbreviations and the Glossary for help.