---
---
Free Patterns
Babies/Kids
Adult Clothing
Other Patterns
---
Knitters Will Love...
---
Slipper Boots Knitting Pattern
Peggy Sherman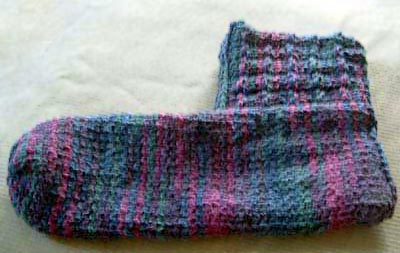 These slipper boots fit the average woman. Make them longer or shorter if desired. To change the width, CO fewer or additional stitches. Gauge:
16 sts=4" in St st Materials:
Bulky weight yarn
Size 9 US (5.5 mm) needles Instructions
Beginning at the heel, CO 62 sts leaving at least a 12" tail of yarn for seaming.
Use a stitch pattern of your choice that will work over 16 sts, such as a multiple of 4 or 2. Seed stitch, moss stitch or even garter stitch will work.
Knit in your chosen pattern stitch over the ankle area for 16 sts, place marker, work St st for 30 sts, place marker, end with chosen pattern stitch over last 16 sts.
Cont in this manner for 4".
BO 16 sts, cont in St st and pattern stitch to end of row. BO 16 sts and cont in St st over 30 sts until the piece measures 8½" (or spans the length of your foot). Decrease for toe: K1 *slip 2 tog as if to knit, K1, p2sso (pass the two slipped stitches over), K1; rep from *, end sl2 tog, K1, p2sso, K2. Cut yarn, leaving 24" for seaming. Thread yarn in tapestry needle, slip through rem sts and off needle. Pull tightly to close.
Fold slipper in half lengthwise. Seam from the toes across the top of the foot and the front of the ankle. Use the tail at the cast on edge to seam down the back of the ankle part and the back of the heel. If desired, finish the top edge of the ankle with a round of single crochet. Add a pom pom if desired. See Abbreviations and the Glossary for help.