---
---
Free Patterns
Babies/Kids
Adult Clothing
Other Patterns
---
Knitters Will Love...
---
Cuffed Slippers Knitting Pattern
Designed by Barbara Breiter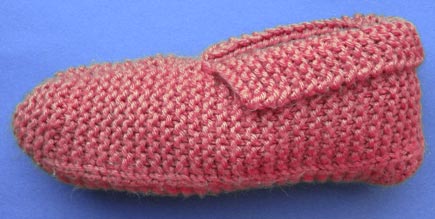 This is an easy knitting pattern for slippers; they stretch and fit men or women. Gauge:
16 sts=4" Materials:
Size 8 US (5 mm) needles Worsted weight yarn
(one skein of most yarns should make a pair but it does depend upon yardage) Instructions CO 45 sts. Row 1: K
Row 2: k7, p1, k29, p1, k7
Row 3: k17, p1, k9, p1, k17 Rep Rows 2 and 3 30 more times (16 ridges).
BO 7 sts beg next 2 rows - 31 sts.
Rep Rows 2 and 3 20 times or 28 time for larger sizes, omitting first and last 7 sts of each row as written (26 total ridges). Toe Row 1: k2, k2tog across to last 3 sts, end k3 - 18 sts
Rows 2, 3, 4: K
Row 5: k2tog across - 9 sts
Rows 6, 7, 8: K
Row 9: k1, k2tog across - 5 sts
Row 10: K Cut yarn and leave a long tail. Thread tail through tapestry needle. Thread needle through sts on needle and remove from needle. Pull tightly to close toe. Seam heel. Weave in ends on WS. ©Barbara Breiter. This design may not be reproduced in any manner without the expressed written consent of the author. See Abbreviations and the Glossary for help.
---
Also see Knit A Bit, for patterns by Barbara Breiter
---