---
---
Free Patterns
Babies/Kids
Adult Clothing
Other Patterns
---
Knitters Will Love...
---
Eyelet Rib Wrap Knitting Pattern
Sally Trefftzs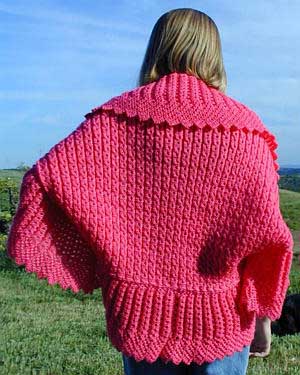 Use any yarn, any needles. I used most of seven 50 gram skeins of Unger's Utopia Sport in bright raspberry pink and size 5 US (3.75 mm) needles for both the rectangle and lace. The original inspiration came from Ruby Townsend of the San Diego Knitting Guild. I was at the meeting where she demonstrated what could be done with a wide border of lace all around a simple ribbing rectangle. It was joined at the corners of the rectangle to make a stretchy "wrap" with a wide collar and cuffs. I used the single eyelet rib on page 46 of Barbara Walker's First Treasury for my rectangle and a baby blanket edging from years ago for the lace, changed to make it shorter here, longer there and fully reversible. You need to measure your intended victim. Have her stand with hands on hips and measure from the tip of one elbow to the tip of the other. For my tiny mother this was 25". For me, 30". A swatch of your chosen ribbing is needed. Knit about a 4" wide and 2 to 3" long and take it off the needles. Measure it relaxed, measure it stretched. Add these two numbers together and divide by two to give you the average. Multiply your average number of sts by the width in inches to tell you approximately how many sts to cast on. You want a fairly stretchy rectangle of your chosen width by about 18" tall. For the lace edging, measure around the rectangle and knit the edging longer than that. You can use any pattern that will give you a width of 4-6 inches. I knitted a width of 5 ½" and a length of 90". It would have been nicer with about 95" so the corners could have been eased better. This lace has gathers knitted into it for extra fullness. Reversible Lace Edging CO 28 sts loosely and knit 1 row. Row 1: k2, p16, (yo, k2tog) 4 times, yo, k2 (29 sts)
Row 2: k12, (yo, k2tog) 7 times, k1, turn leaving 2 sts, p17, (yo, k2tog) 4 times, yo, k2 (30 sts)
Row 3: k30
Row 4: k20, (yo, k2tog) 4 times, yo, k2 (31 sts)
Row 5: k11, p18, turn leaving 2 sts, sl 1, (yo, k2tog) 13 times, yo, k2 (32 sts)
Row 6: k11, p19, turn leaving 2 sts, k30 (32 sts)
Row 7: BO 4 sts loosely, k to end (28 sts) Rep these 7 rows for desired length and sew or graft the ends together. Pin and sew edging to rectangle, easing corners of edging. With long side of rectangle facing you, fold top corners to bottom ones and sew together just at the corners. Or make button loops out of crochet chain and sew on buttons. This option allows the wrap to become a lap-robe, too. For novice lace makers, I found that I got the best results when knitting loosely on my chosen needle. Going up a needle size made the lace look coarse. If you don't bind off loosely the points tend to buckle and fold up. As an error check: for any row that includes the instruction (yo, k2tog) 4 times, yo, k2, there should be 10 sts remaining on the left needle when you reach that instruction. See Abbreviations and the Glossary for help.