---
---
Free Patterns
Babies/Kids
Adult Clothing
Other Patterns
---
Knitters Will Love...
---
Lace Shawl Knitting Pattern
Betsy Baird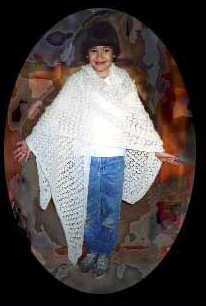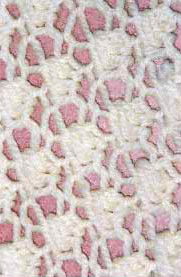 Materials: 4 skeins Patons Classic Merino Wool (worsted weight)
100% wool
3.50 ounces/100 grams
223 yards/205 meters
Size 13 US (9 mm) 36 inch circular needles Instructions: Notes: (k1, yo, k1): in the same stitch, knit one, yarn over, knit one
p3tog: purl 3 stitches together
sl 1: with the yarn in front, slip 1 stitch purlwise
inc 1: knit into front and back of one stitch This shawl has a slipped stitch selvedge and a garter stitch border on each side. The increases are made on the inside edge of this border. After each 4 row repeat, there are enough extra stitches at each end to add another 4 stitch pattern repeat. CO 4 sts. Knit in garter stitch, slipping the first stitch of every row and increasing one stitch in second and next to last stitches, until you have 16 stitches. Row 1: sl 1, k2, inc 1, *(k1, yo, k1), p3tog; rep from * to last 4 sts, inc 1, k3
Row 2: sl 1, k3, inc 1, *p1, k3; rep from * to last 5 sts, inc 1, k4
Row 3: sl 1, k4, inc 1, *p3tog, (k1, yo, k1); rep from * to last 6 sts, inc 1, k5
Row 4: sl 1, k5, inc 1, *k3, p1; rep from * to last 7 sts, inc 1, k6 Cont repeating these four rows until the shawl is big enough or you almost run out of yarn. BO loosely or work several rows of garter stitch and then a 3-stitch I-Cord for a stable and flexible edge. Weave in ends on WS. Block. See Abbreviations and the Glossary for help.