---
---
Free Patterns
Babies/Kids
Adult Clothing
Other Patterns
---
Knitters Will Love...
---
Bell Pattern Shawl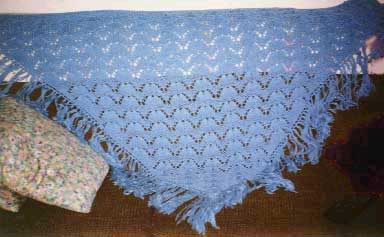 This is a regular fringe, not crocheted; it's just strands pulled through and knotted. Since it's cotton it looks very tangled and actually was! So I took it off and crocheted one on.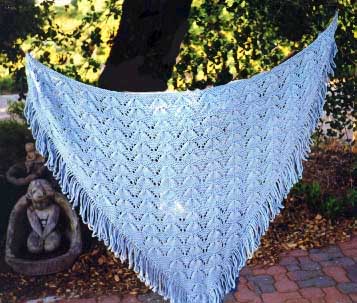 This has less pattern repeats than called for in the original pattern. It has a crocheted fringe...a single crochet around the entire edge (except the top). Then, starting, at one end, single crochet once, chain 30 (or 40 etc.), then slip stitch into the just made single crochet. Single crochet into the next stitch and repeat again. You can skip a single crochet and have more space. For a close up of the pattern, click here. To see a photo of a variation of this pattern, click here. Knit by Debra Chin from a free knitting pattern found here.