---
---
Free Patterns
Babies/Kids
Adult Clothing
Other Patterns
---
Knitters Will Love...
---
Star Rib Mesh Cashmere Scarf Knitting Pattern
Designed by Barbara Breiter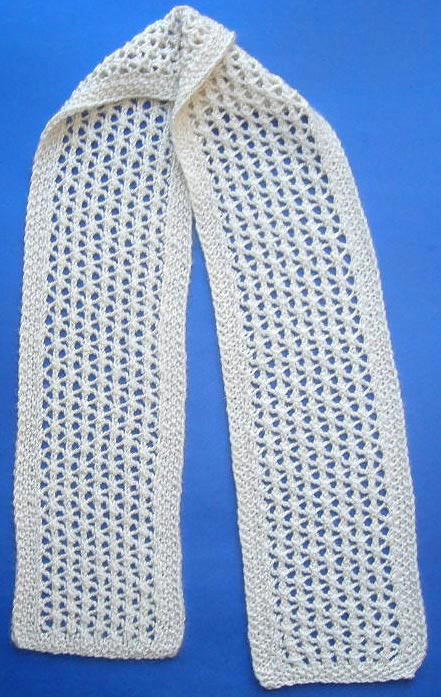 Cashmere...yum! In order to make a more costly yarn go farther, I've designed this scarf in a lovely lace pattern that's still easy to knit with very few rows and repeats. It's knit on larger needles than you would normally use for this Category 3 yarn. It's surrounded by a seed stitch border with a chain selevedge so the edge looks neat. Slip all sts as if to purl unless otherwise noted. The stitch pattern is not reversible but looks nice on the wrong side.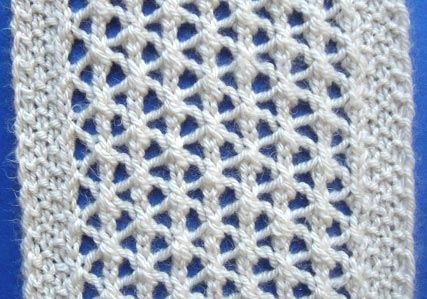 See another close up. Size:
Before Blocking:
4½" wide x 44½" long
After Blocking:
5" wide x 43" long Gauge:
23¼ sts=4" in Star Rib Mesh pattern prior to blocking Materials:
2 balls LB Collection Cashmere by Lion Brand Yarn
100% cashmere
82 yards/75 meters
.88 ounces/25 grams
Color 098 Off White
Size 10 US (6 mm) needles Instructions
CO 25 sts.
Work in Seed Stitch 3 rows:
Row 1: k1, *p1, k1; rep from *
Rows 2 and 3: Sl 1, *p1, k1; rep from *
Begin Star Rib Mesh Pattern
Rows 1 and 3 (WS): Sl 1, p1, k1, p to last 3 sts, k1, p1, k1
Row 2: Sl 1, (p1, k1) twice, *yo, sl 2 knitwise, k1, p2sso, yo, k1; rep from *, end (p1, k1) twice
Row 4: Sl 1, p1, k1, p1, ssk, yo, k1, *yo, sl 2 knitwise, k1, p2sso, yo, k1; rep from *, end yo, k2tog, (p1, k1) twice
End with Row 1 or 3 completed, leaving about 6 feet of yarn.
Work 3 rows Seed Stitch.
BO.
Block to open up lace pattern. ©Barbara Breiter This design may not be reproduced in any manner without the expressed written consent of the author. See Abbreviations and the Glossary for help.
---
Also see Knit A Bit, for patterns by Barbara Breiter
---