---
---
Free Patterns
Babies/Kids
Adult Clothing
Other Patterns
---
Knitters Will Love...
---
Miter Squares Scarf Knitting Pattern
Designed by Barbara Breiter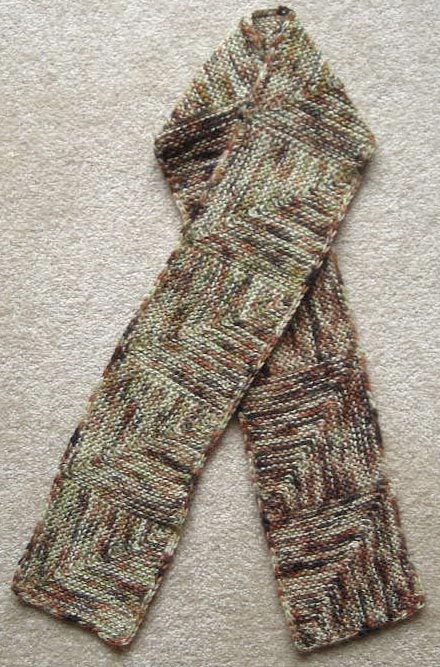 Miters are nothing more than decreases strategically placed. When knit with a color changing yarn, they provide magical results. A heavier yarn will make a wider scarf.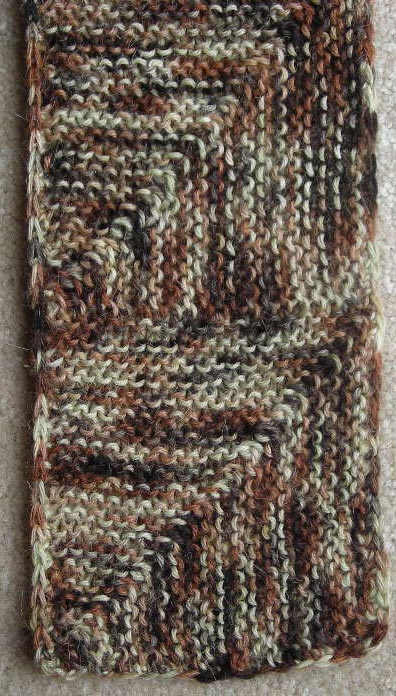 Size:
4½" wide x 49" long Gauge:
18 sts=4" in St st Materials:
2 balls Atacama by Araucania Yarns
100% alpaca
110 yards/50 grams
Color 509
Size 7 US (4.5 mm) needles Size G-6 (4.25 mm) crochet hook (optional) Instructions
CO 43 sts.
Row 1 (WS): k20, k3tog, k19, p1
Row 2 (RS) and all even rows: k1 tbl, k across to last st, p1
Row 3: k1 tbl, k18, k3tog, k18, p1
Row 5: k1 tbl, k17, k3tog, k17, p1
Row 7: k1 tbl, k16, k3tog, k16, p1
Row 9: k1 tbl, k15, k3tog, k15, p1
Row 11: k1 tbl, k14, k3tog, k14, p1
Row 13: k1 tbl, k13, k3tog, k13, p1
Row 15: k1 tbl, k12, k3tog, k12, p1
Row 17: k1 tbl, k11, k3tog, k11, p1
Row 19: k1 tbl, k10, k3tog, k10, p1
Row 21: k1 tbl, k9, k3tog, k9, p1
Row 23: k1 tbl, k8, k3tog, k8, p1
Row 25: k1 tbl, k7, k3tog, k7, p1
Row 27: k1 tbl, k6, k3tog, k6, p1
Row 29: k1 tbl, k5, k3tog, k5, p1
Row 31: k1 tbl, k4, k3tog, k4, p1
Row 33: k1 tbl, k3, k3tog, k3, p1
Row 35: k1 tbl, k2, k3tog, k2, p1
Row 37: k1 tbl, k1, k3tog, k1, p1
Row 39: k1 tbl, k3tog, p1
Row 41: k3tog- 1 sts remains. Do not fasten off.
With RS facing, pick up 20 sts along top edge. Using the Cable Cast On, CO 22 sts.
Rep Rows 1-41.
Knit 10 squares total or desired length. Finishing This is not necessary but it does make a nice finished edge.
Do not fasten off; place last loop on hook. Ch 1, turn.
Work single crochet in next 3 stitch/space along edge, then skip one stitch/space. Repeat. Work 2 single crochets in each corner. Join with slip stitch to first single crochet. ©Barbara Breiter This design may not be reproduced in any manner without the expressed written consent of the author. See Abbreviations and the Glossary for help.
---
Also see Knit A Bit, for patterns by Barbara Breiter
---