---
---
Free Patterns
Babies/Kids
Adult Clothing
Other Patterns
---
Knitters Will Love...
---
Easy Lace Scarf Knitting Pattern
Designed by Charles Voth
This scarf is worked horizontally by casting on the stitches along the long edge. Three or 4 different thin yarns of various fibre types are combined such as mohair, chenille, silk, wool, angora, cotton, rayon, etc. Three or 4 rows are worked and then 1 or 2 of the yarns exchanged for others. This creates more subtle stripes. Needles:
6-8 MM (US 10 to 11) circulars Gauge:
12 to 13 stitches = 4 inches in stockinette.
The number of rows in immaterial. Instructions: Cast on 211 stitches on with a provisional cast on. Using the graph, start at the bottom right corner, which is row 1, the RS of the scarf. Work the sixteen rows as shown. When casting off with purl stitches work very loosely or use a larger needle. Undo the provisional cast on and pick up the stitches. Start with row 3 on the RS of the work, increasing one stitch after 105 stitches; finish row 3. Continue to knit rows 4 to 17. Using a crochet hook and yarn pieces 8 to 10 inches long, add a fringe to both ends of the scarf. To make a wider scarf, repeat rows 13-16 in both directions till desired width.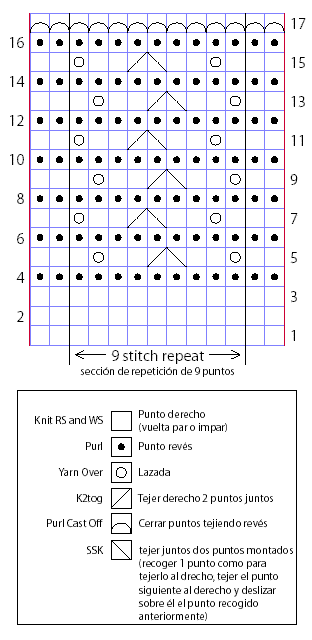 © Charles Voth. Visit his blog at http://jigraknits.wordpress.com/ See Abbreviations and the Glossary for help.