---
---
Free Patterns
Babies/Kids
Adult Clothing
Other Patterns
---
Knitters Will Love...
---
Thrummed Mittens Knitting Pattern
Designed by Corinne Morrison-Morton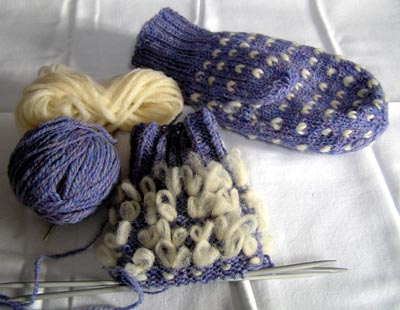 This thrummed mitten knitting pattern fits a woman's medium sized hand. You can adjust the size by adding or subtracting 1 inch to the final length of the mitten. The mittens are plump and lightweight! Thrum pieces should be pulled (not cut) about 3-4 inches in length. Each piece will be doubled. The two ends should meet in the middle, then slightly twist them together then add to the stitch. Materials:
Size 4 mm (Size 5 to 6 US) double pointed needles or size needed to obtain gauge
1 skein MacAusland's 2-ply wool
100% wool
4 ounces/113 grams
Or Briggs & Little Heritage 2-ply
4 ounces/113 grams
215 yards/197 meters
Approx 60 grams carded fleece (roving) Gauge:
22 sts and 30 rows = 10 cm (4 inches) in St st Instructions:
CO 39 sts on dpn's. Join.
Knit cuff in K2, P1 ribbing for 3 inches.
Inc 9 sts evenly around cuff.
K 1 round.
Rnd 1: *K2, holding twisted thrum over forefinger, insert needle into next st. Slip thrum over inserted needle so ends are to the inside. Wrap yarn around needle and draw thrum and wrapped yarn through st; rep from * to end of round
Rnd 2: *K2, knit into back of thrum and wrapped st (knitting them together); rep from * to end of round
Rnds 3, 4, and 5: Knit Repeat Rnds 1-5 throughout, making appropriate adjustment to thrum pattern where thrums occur on decreased rounds. Work until mitten from beginning measures 12 cm (4¾ ins) Next Round For Thumb:
K1, slip next 10 sts on to holder for thumb. CO 10 sts, knit to end of rnd. Cont working even until mitten measures 24 cm (9½ inches) from beg. At this point you can make the mitten smaller by knitting 8½ inches or larger by knitting 10½ inches. Rnd 1: *K6, k2tog; rep from * around
Rnds 2, 4, 6, 8, and 10: Knit
Rnd 3: *K5, k2tog; rep from * around
Rnd 5: *K4, k2tog; rep from * around
Rnd 7: *K3, k2tog; rep from * around
Rnd 9: *K2, k2tog; rep from * around
Rnd 11: k2tog around
Cut yarn leaving a 6 inch tail and thread yarn end through remaining 9 sts.
Draw up and fasten securely on inside. Thumb
Dividing sts evenly on 3 needles and with RS facing, place 10 sts from holder on needle.
Rejoin yarn and pick up and knit 1 st from side of thumb opening, 10 sts along top of opening and 1 st from opposite side of opening-22 sts
Work in thrum pattern as est until thumb measures 6.5 cm (2½ inches) from beg or desired length.
Next Rnd: K1, k2tog, K4, k2tog, K3, k2tog, K4, k2tog, K2 - 18 sts
Next Rnd: K2tog, K4, k2tog, K1, k2tog, K4, k2tog, K1-14 sts
Next Rnd: K2tog around.
Break Yarn. Thread tail through remaining 7 sts. Draw up and fasten securely on inside. Make another mitten to correspond. To Finish:
Turn inside out. Weave in loose yarns ends. Gently pull each thrum stitch to tighten, then fluff thrum ends by gently pulling fibers apart to cover entire inside surface. Mittens can be washed in cool water; lay flat to dry. See Abbreviations and the Glossary for help.