---
---
Free Patterns
Babies/Kids
Adult Clothing
Other Patterns
---
Knitters Will Love...
---
Ruffled Fingerless Mitts Knitting Pattern
Designed by Diane L. Augustin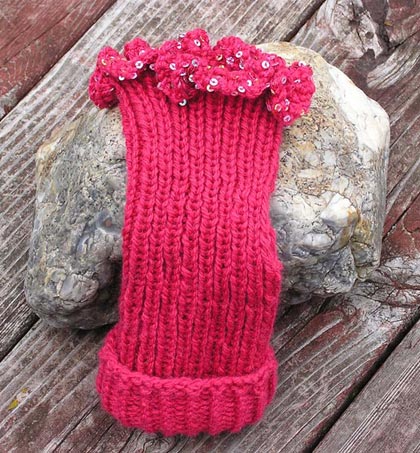 Fun and fast, these mitts knit up quickly in the round with an opening for your thumb. They also have an extra long cuff and will add a bit of sparkle to your world as the yarn used in the ruffle has sequins threaded in.
Materials
1 hank SWTC Yin
60% Wool/20% Silk/20% Bamboo
50 grams/1.75oz
164 yards
1 hank SWTC Yang
60% Wool/20% Silk/20% Bamboo with sequins on a silk thread
50 grams/1.75oz
100 yards
You may also use any sport weight yarn
Size 4 US (3.5 mm) double pointed needles
Gauge
About 5 sts=1 inch in St st Instructions
Selvage Edge Knit in back of the first stitch, work pattern for the row, Slip the last stitch as if to Purl. Do this on each row for a finished edge. You will use this technique as you knit the rows for the thumb opening.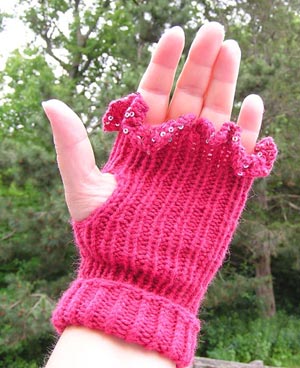 This is a K1, P1 rib pattern.
With Yin, CO 38 stitches.
Join with a purl stitch and purl the first round.
Knit the next round.
Knit one, Purl one rib stitch pattern for 35 rounds. Make opening for thumb
Begin knitting back and forth to make an opening for the thumb. Use the selvage edge instructions above for the first and last stitch on each row of 10 rows. You will be knitting flat, turning your work for these 10 rows, continuing the rib pattern.
Begin the 11th row the same but purl the last stitch and rejoin the work at the top of the thumbhole.
Continue Knit one, Purl one rib stitch pattern in the round for 15 rows. Make Ruffle
Begin knitting with sequined Yang yarn, (or other fashion yarn) make a ruffle by knitting into the front and the back of every stitch for 3 rounds. Bind off. ©Diane L. Augustin. See more of Diane's wonderful knitting patterns at Etsy. See Abbreviations and the Glossary for help.