---
---
Free Patterns
Babies/Kids
Adult Clothing
Other Patterns
---
Knitters Will Love...
---
Tea Cosy Knitting Pattern
Aine Twomey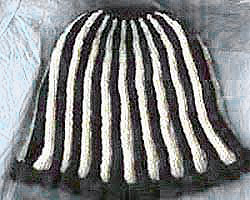 Use any weight yarn with appropriate size needles you want. Wool would be better than synthetic yarn. I suggest starting at the top. It's up to you whether you want to do it in the round, in two flat pieces, or as one big flat piece. Just remember to leave holes, or you'll have a wet tea cosy ! You could use 2 colours or 2 separate balls of wool. For clarity, I'm assuming 2 colours: MC and CC. Instructions
With MC, CO 10 sts. Working in St st, K one row.
Inc in every stitch (20 sts).
Work 1 row.
*k1 in mc, drop wool, k1 in cc, drop wool; rep from *
Work 1 row, using same colours as previous row. Continue, repeating previous row until you need to increase. If you have a round teapot, you'll need toincrease frequently. If you have a pointier one, you'll have to work more rows between increases. Inc in every stitch, following colours. Now you should have 40 sts in 2 stitch columns in alternating colours. Continue, keeping the colours in columns.
Increase as necessary. Photo ©Sarah Bradberry and used with her permission. See Abbreviations and the Glossary for help.