---
---
Free Patterns
Babies/Kids
Adult Clothing
Other Patterns
---
Knitters Will Love...
---
Roll Brim Hat Knitting Pattern For Babies And Kids
Designed by Peggy Pignato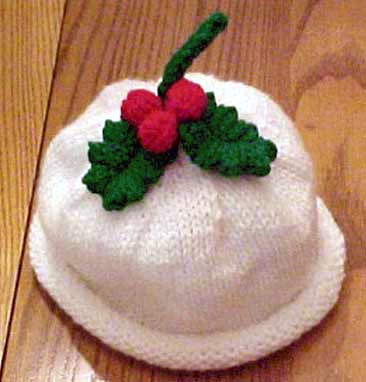 Top this cute and easy roll brim hat pattern off in a number of ways. The pattern for the holly is only one possibility. It fits babies and smaller kids. Knit it in two different gauges as well. Size:
Babies/Smaller Children
Circumference = 18" Materials:
About 2 ounces heavy worsted weight yarn
Size 9 US (5.5 mm) 16" circular needles or size needed for gauge
Size 9 US (5.5 mm) double pointed needles Gauge:
16 sts = 4"
(To knit at 20 sts=4", see instructions at bottom of pattern). Instructions:
CO 72 sts.
Join, making sure sts aren't twisted. Knit in St st (knit every rnd) for 6". Crown Decreases:
Round 1: k6, k2tog; rep around
Round 2: knit
Round 3: k5, k2tog; rep around
Round 4: knit
Round 5: k4, k2tog; rep around
Round 6: knit Cont in this manner until 9 sts rem. Change to double points when sts no longer fit.
Draw yarn through all stitches on needle.
Add pom-pom, tassel or holly. Or to make a stem:
Do not draw yarn through sts.
Join green yarn.
K2tog around until 3 sts remain.
Work I-Cord for 2 to 3 inches.
Draw yarn through the 3 sts on needle and pull through center of stem. To knit at 20 sts=4", CO 90 sts. Work hat in same manner but begin Crown Decreases K8, k2tog. See Abbreviations and the Glossary for help.