---
---
Free Patterns
Babies/Kids
Adult Clothing
Other Patterns
---
Knitters Will Love...
---
Ruffle Hat For Kids Knitting Pattern
Designed by Barbara Breiter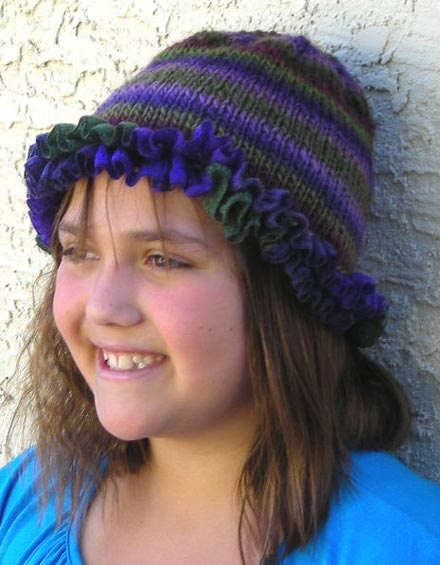 This cute ruffle hat for kids features a self striping yarn and a unique yarn that ruffles around the brim. It fits kids about ages 8-14. To fit older teens or adults, work the body an additional inch before the crown shaping.
Size:
18" circumference; will stretch
Gauge:
16 sts = 4" in St st with yarn A Materials:
Size 10 US (6 mm) 16 or 20" circulars
1 ball Mochi Plus by Crystal Palace Yarns (yarn A)
80% Merino Wool, 20% Nylon
95 yards/50 grams
Color 553 Violets Rainbow72/
1 ball Tutu by Crystal Palace Yarns (yarn B)
90% Acrylic, 10% Polyester
24 yards/50 grams
Color 104 Violets
See this listing for a shop near you. Instructions
See special instructions for knitting with Tutu.
With A, CO 72 sts. Join, being careful not to twist sts. Mark beg of round.
Rnd 1: P
Rnd 2: K
Rnd 3: With A and B, P
Rnd 4: With A, K
Rnd 5: With A and B, P
Cut B. With A, work in St st (knit every rnd) until 6" including ruffle.
Crown Decreases
Note: Change to double points when sts no longer fit on circulars.
Rnd 1: *k6, k2tog; rep from * - 63 sts
Rnds 2 and all even rows: K
Rnd 3: *k5, k2tog; rep from * - 54 sts
Rnd 5: *k4, k2tog; rep from * - 45 sts
Rnd 7: *k3, k2tog; rep from * - 36 sts
Rnd 9: *k2, k2tog; rep from * - 27 sts
Rnd 11: *k1, k2tog; rep from * - 18 sts
Rnd 12: k2tog around - 9 sts Finishing
Cut yarn, leaving long tail. Thread through tapestry needle and thread through each rem st on needle as if to purl, taking sts off needle. Pull tightly to close top of hat. Weave in ends on WS. ©Barbara Breiter. This design may not be reproduced in any manner without the expressed written consent of the author. See Abbreviations and the Glossary for help.
---
Also see Knit A Bit, for patterns by Barbara Breiter
---