---
---
Free Patterns
Babies/Kids
Adult Clothing
Other Patterns
---
Knitters Will Love...
---
Santa Hat Knitting Pattern For Babies
Designed by Lissa Kadlec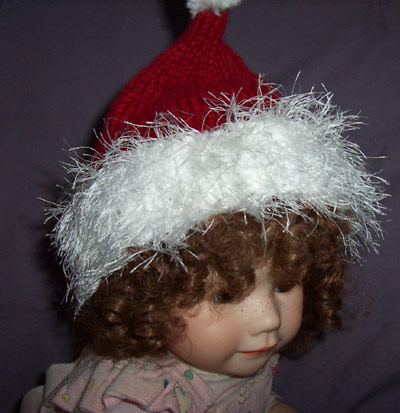 This knitting pattern fits a variety of sizes.
For preemies, use a size 3 or 4 US needle and baby or sport weight yarn
For newborns, use a size 6 US needle and worsted weight yarn
For older babies, use a size 8 US needle and worsted weight yarn (as knit)
Yarn
Small amounts of white eyelash yarn, white worsted weight yarn and red worsted weight yarn (such as Red Heart Soft Yarn) Instructions: Holding one strand of the white eyelash and the white worsted weight yarn together as one, CO 54 sts. Work in K1, P1 ribbing (k1, p1 across) for 2 inches. Change to red yarn and knit in stockinette stitch (knit 1 row, purl 1 row) until total length of hat (including brim) is 4 inches. Start decrease as follows: Row 1: *K4, k2tog; rep from *
Row 2: *P3, p2tog; rep from *
Row 3: Knit
Row 4: Purl
Row 5: Knit
Row 6: Purl
Row 7: *K2, k2tog; rep from *
Row 8: Purl
Row 9: Knit
Row 10: Purl
Row 11: *K1, k2tog; rep from *
Rows 12-14: Work in stockinette stitch (purl one row, knit one row)
Row 15: K2tog across
Rows 16-21: Work in stockinette stitch Cut yarn, leaving a long tail to stitch up the seam in the cap. Thread yarn through remaining stitches on needle and draw up securely. Stitch up seam in hat, changing to white yarn to sew the brim seam. Make a fluffy white pompom and attach securely to the top of the hat. ©Lissa Kadlec. See Abbreviations and the Glossary for help.