---
---
Free Patterns
Babies/Kids
Adult Clothing
Other Patterns
---
Knitters Will Love...
---
Pumpkin Pin Knitting Pattern
Designed by Barbara Breiter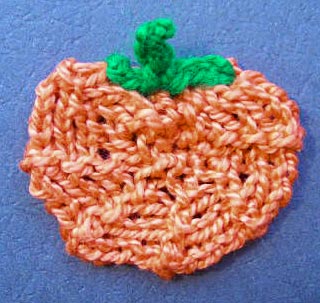 Very cute pattern for Halloween and fast to knit! Easy to knit short rows create the pumpkin...great practice if you've never tried short rows before. Heavier yarn and larger needles will yield a larger pin. Materials:
Size 5 US (3.75 mm) needles
Size G-6 US (4.25 mm) crochet hook
Sportweight orange and green yarn (small amount)
Large eye blunt needle
Safety pin
Fabric stiffener or starch(optional)
Fabric paint (optional) Gauge:
Not vital Size
Approx 2¼" across Instructions
With orange, CO 5 sts.
Row 1: k2, turn, p back 2 sts to end of row
Row 2: k3, turn, p back 3 sts to end of row
Row 3: k4, turn, p back 4 sts to end of row
Row 4: k5, turn, k back 5 sts to end of row (ridge)
Rep Rows 1-4 6 more times. BO, leaving a long tail. You will not have a complete circle. Finishing
Adjust CO and BO edges inward and down toward the small center hole. With large eye blunt needle, seam first few sts neatly to each other, covering hole and overlapping if necessary. This forms top of pumpkin.
With crochet hook and green yarn, attach yarn with slip stitch and work a few crochet slip sts along top of pumpkin. Fasten off. Reattach green yarn in center of pumpkin top and chain a few sts for stem. Fasten off.
Weave in ends. If desired, paint on face using fabric paint. Stiffen if desired using commercial stiffener or starch. Pin safety pin on back. ©Barbara Breiter This design may not be reproduced in any manner without the expressed written consent of the author. See Abbreviations and the Glossary for help.
---
Also see Knit A Bit, for patterns by Barbara Breiter
---