---
---
Free Patterns
Babies/Kids
Adult Clothing
Other Patterns
---
Knitters Will Love...
---
One Egg Easter Basket Knitting Pattern
Designed by Vivian Keys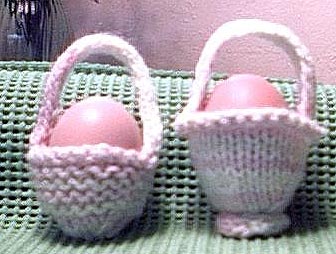 Knit by Hazel Spencer

This cute knitting pattern is fast and easy and holds one special Easter egg! Knit every row for the garter stitch version or knit it in Stockinette. Gauge: Not vital
Materials:
Worsted weight yarn
Size 7 US (4.5 mm) needles Instructions
Co 25 sts.
Row 1: Knit
Row 2: Purl
Row 3: *k5, k2tog; rep from *, end k4 - 22 sts Knit about 1 inch, then begin decreasing.
RS: *k3, k2tog; rep from *, end k2 - 18 sts.
Next row: Purl
Next row: *k2, k2tog; rep from *, end k2 - 14 sts
Next row: Purl
Next row: k2tog across - 7 sts Finishing
Cut yarn, leaving a long tail. With tapestry needle, thread tail through remaining sts and pull tightly to close. Use tail to sew seam. Weave in ends on WS.
Crochet chain or make I-Cord for handle and sew on. See Abbreviations and the Glossary for help.