---
---
Free Patterns
Babies/Kids
Adult Clothing
Other Patterns
---
Knitters Will Love...
---
Spiral Rib Hat Knitting Pattern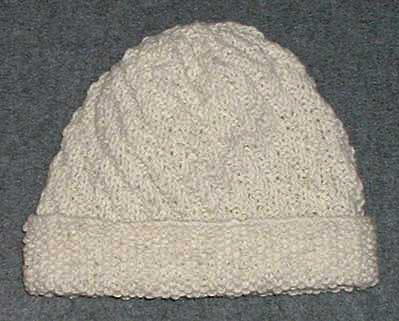 I changed the gauge of this pattern and knit it at 4.25 st per inch with less than a 100 gram skein of Rowan Rowanspun Aran on size 9 US needles. As a result, I completed only 40 rounds of the pattern instead of 48 as in the pattern. I found an error in the pattern; the spiral rib pattern actually calls for a multiple of 4 sts. If you decrease one st instead of increasing a stitch after completing the band, you will have the correct number of sts. A point of clarification on the pattern:
End rows 3 and 4 with p1 instead of p2
End rows 7 and 8 with k1 instead of k2 The linen stitch used in the band makes an extra warm covering for the ears since it is so dense. Knit by Barbara Breiter from a free pattern found here.