---
---
Free Patterns
Babies/Kids
Adult Clothing
Other Patterns
---
Knitters Will Love...
---
Easy Garter Stitch Hat With Brim Knitting Pattern
Designed by Jacque Aldridge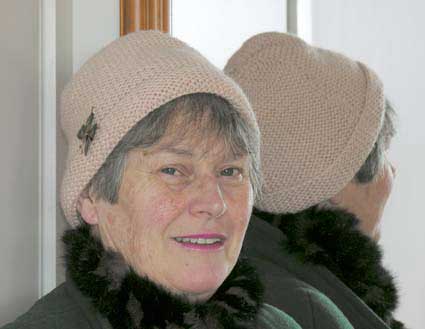 Materials:
Worsted weight yarn
Straight needles appropriate to yarn Gauge:
18 sts=4" in garter stitch Instructions
CO 88 sts.
Work in garter stitch (knit every row) for 9 inches (you can work this shorter or longer depending on how long you want the roll up brim to be). Crown
Row 1: *K6, k2tog; rep from * - 77 sts
Row 2 and even rows: Knit
Row 3: *K5, k2tog; rep from * - 66 sts
Row 5: *K4 k2tog; rep from * - 55 sts
Row 7: *K3, k2tog; rep from * - 44 sts
Row 9: *K2, k2tog; rep from * - 33 sts
Row 11: *K1, k2tog; rep from * - 22 sts
Row 13: (k2tog, k3tog) 4 times, k2tog - 9 sts Cut yarn, leaving a a long tail. With tapetry needle, thread through sts and pull tightly to close. Sew seam. Add an optional pom pom. I added a butterfly. ©Jacque Aldridge
Visit Jacque's blog, Jacque's Knitting Place See Abbreviations and the Glossary for help.