---
---
Free Patterns
Babies/Kids
Adult Clothing
Other Patterns
---
Knitters Will Love...
---
Spaced Checks Face Cloth Knitting Pattern
Designed by Barbara Breiter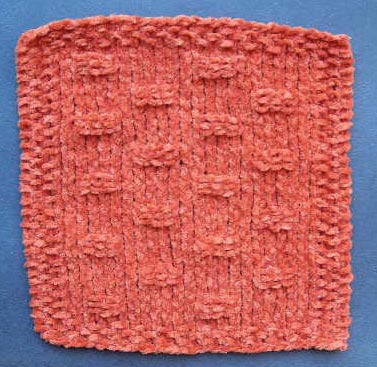 Cotton chenille produces a velvet like texture so it's a great yarn for face cloths. Unlike rayon or other synthetic chenille yarns, it will not worm. One ball will make two cloths; two balls will make five cloths. Size:
7½" wide and 8½" long Gauge:
15 sts=4" in pattern stitch Materials:
Cotton Chenille by Crystal Palace Yarns
100% cotton
50 grams/98 yards
Color #403 Russet
Size 6 US (4.25 mm) needles Instructions
CO 28 sts.
Work 3 rows in Seed Stitch:
Row 1: *k1, p1; rep from *
Row 2: *p1, k1; rep from * Keeping first and last 3 sts in Seed Stitch, begin Spaced Checks Pattern Stitch: Row 1 (RS): knit
Row 2: purl
Row 3: k2, *p3, k7; rep from *
Row 4: *p7, k3; rep from *, end p2
Row 5: Rep Row 3
Row 6: purl
Row 7: knit
Row 8: p2, *k3, p7; rep from *
Row 9: *k7, p3; rep from *, end k2
Row 10: Rep Row 8 Rep Rows 1-10 until about 7 inches long from beg, ending with Row 2 or 6 completed. Work 3 rows in Seed Stitch. BO loosely in pattern. ©Barbara Breiter. This design may not be reproduced in any manner without the expressed written consent of the author. See Abbreviations and the Glossary for help.
---
Also see Knit A Bit, for patterns by Barbara Breiter
---