---
---
Free Patterns
Babies/Kids
Adult Clothing
Other Patterns
---
Knitters Will Love...
---
Bias Knit Striped Potholders Knitting Pattern
Designed by Barbara Breiter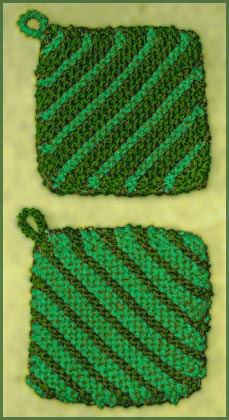 You could knit these potholders all in one color if you prefer. Or reverse the color scheme as shown. Each potholder uses two squares sewn together; sew them so each potholder uses matching or reversed color schemes. These easy and thick potholders are knit on the bias or diagonally. You begin at one corner and increase until you have a triangle; you then decrease on each end and thus, end up with a square. Gauge:
13 sts=4" with two strands of yarn held together Materials:
Size 10 US (6 mm) needles
Size J-10 (6 mm) crochet hook
4 skeins Lily Sugar 'N Cream (or other craft type cotton such as Lion Cotton or Bernat Handicrafter Cotton)
100% cotton
2 skeins color A and 2 skeins color B (your choice) Size:
8" by 8" Instructions: Make 4, reversing colors for 2 squares.
Inc by knitting into front and back of st. CO 3 sts with A.
RS: K 1 row.
WS: Inc, k1, inc. Mark this side with a safety pin to help you keep track.
K 1 row.
K1, inc, k to last 2 sts, inc, k1 Change to B.
K 1 row.
K1, inc, k to last 2 sts, inc, k1 Change to A.
K 1 row.
K1, inc, k to last 2 sts, inc, k1
K 1 row.
K1, inc, k to last 2 sts, inc, k1 Cont as est, knitting 4 rows of A and 2 rows of B and inc as est every WS row until there are 31 sts. Dec as follows, maintaining stripe pattern as est:
RS: K
WS: K1, k2tog, k to last 3 sts, k2tog, k1 Cont as est until there are 5 sts.
K 1 row.
K2tog, k1, k2tog
K 1 row.
BO.
Leave a very long tail for sewing and making the hanging loop for one square of each color scheme. Do not pull yarn through the last loop for these two squares. Finishing
Weave in ends on WS.
Insert crochet hook through last loop and using tail, chain 10 (yarn over hook and pull through tail).
Sew end of chain to WS to form a loop.
With WS of 2 squares facing, whipstitch together.
Rep for other potholder. ©Barbara Breiter. This design may not be reproduced in any manner without the expressed written consent of the author. See Abbreviations and the Glossary for help.
---
Also see Knit A Bit, for patterns by Barbara Breiter
---