---
---
Free Patterns
Babies/Kids
Adult Clothing
Other Patterns
---
Knitters Will Love...
---
Optical Illusion Cloth Knitting Pattern
Designed by Barbara Breiter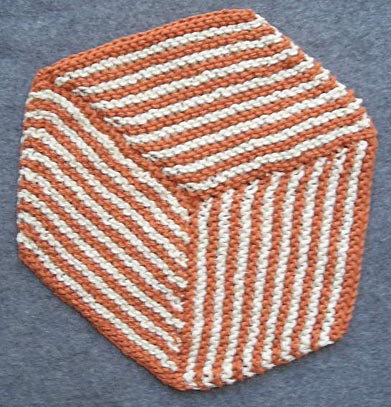 Based on the traditional Tumbling Blocks quilt pattern, this easy to knit cloth appears to look like a 3D cube! It can be used as a dish or face cloth. Knit it with a heavier yarn for a hot pad or pot holder. Or simply display it on a dresser or table or mount it on the wall. Use two contrasting colors to knit this pattern. The size depends on your gauge and the number of stitches cast on. You will knit three parallelograms that are joined and then the last is seamed. To alter the size, begin with any odd number of stitches. Follow the pattern, working each section until the parallelogram is just about as long as it is wide (about the same number of rows as stitches you cast on). Because this is not a square, it's difficult to determine what the final size will be. In this pattern, one parallelogram measured about 6" by 6". Size:
9¾" wide by 11" long at longest point Gauge:
16 sts and 16 rows=4" in garter stitch Materials:
Worsted weight cotton in two contrasting colors; Lily Sugar 'N Cream was used in this pattern
Rust (Color A)
Off White (Color B)
Size 8 US (5 mm) needles Instructions
With A, CO 25 sts. Row 1 (WS): With A, k
Row 2: With B, k1, ssk, k to last st, m1, k1
Row 3: With B, k
Row 4: With A, rep Row 2
Row 5: With A, k
Row 6: With B, rep Row 2
Row 7: With B, k
Row 8: With A, k Rep Rows 1-8 3 times more, then rep Row 1. Cut B.
RS: With A, BO, leaving last st on needle. With A, pick up 24 sts on RS of left edge of parallelogram-25 sts
Work in same manner as first parallelogram. Rep sequence once more for third parallelogram. Leave long tail and seam the third to the first parallelogram. ©Barbara Breiter. This design may not be reproduced in any manner without the expressed written consent of the author. See Abbreviations and the Glossary for help.
---
Also see Knit A Bit, for patterns by Barbara Breiter
---