---
---
Free Patterns
Babies/Kids
Adult Clothing
Other Patterns
---
Knitters Will Love...
---
Felt Bookmark Knitting Pattern
Designed by Barbara Breiter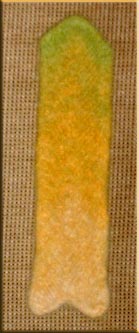 This knitting pattern is very quick to knit as well as easy. You can knit it with any yarn that will felt as gauge is not important. I knit this bookmark with a small amount of Noro Kureyon (color 95) and size 10½ US needles. Prefelt Size: 3 inches wide x 9 inches long
Felted Size: 2 inches wide x 7½ inches long Instructions: CO 13 sts. Row 1 (RS): k1, k2tog, k3, k into the front, back, and front of the next st (2 increases made), k3, sl 1, k1, psso, k1
Rows 2: P Rep Rows 1-2 20 times or to desired length. BO.
Variations: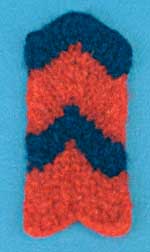 Use two or more colors and work various rows with each color. The variation shown is 2 inches wide and 5 inches long after felting. Work as above, repeating Rows 1 and 2 12 times. Knit Rows 1-8 with Color A.
Knit Rows 9-12 with Color B.
Repeat this sequence once more and BO. Felt
To felt, throw it in the washing machine with a pair of jeans or old canvas tennis shoes. Do not use towels as the lint can embed in the project. Use hot water and a small amount of detergent. If you have a zippered lingerie bag, place the bookmark in the bag as it's small and you can find it in the washer easier. Check after 3 minutes and continue the wash cycle if needed, checking every 2 minutes. When felted, rinse in cool water, shape, and dry flat. Make and attach tassel if desired. Starch, using any method desired. ©Barbara Breiter. This design may not be reproduced in any manner without the expressed written consent of the author. See Abbreviations and the Glossary for help.
---
Also see Knit A Bit, for patterns by Barbara Breiter
---