---
---
Free Patterns
Babies/Kids
Adult Clothing
Other Patterns
---
Knitters Will Love...
---
Draw String Trinket Bag Knitting Pattern
Designed by Rachel Calado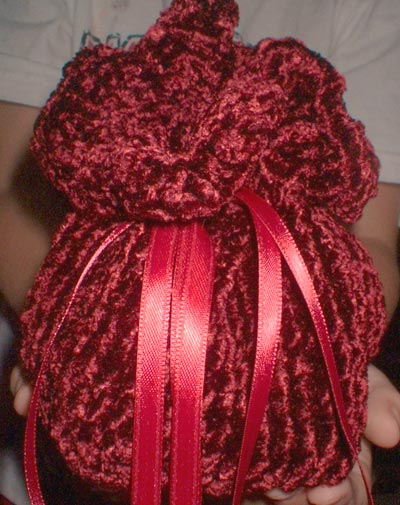 I designed this bag to hold the rings for my sister-in-law's wedding. My son Ben was the ring bearer; he did a perfect job of course! I think I had less than 6" of yarn left. Here's how I figured out when to bind off... I guessed at where I wanted the eyelet round and knitted that. Then I knit one more round. Then, I wrapped the yarn around the needle 60 times to figure how much yarn I needed for a row, measured it, and then measured the rest of my yarn. A little more math and I knew how many rows I could do, including the increase row and the bind off. Be fearless! Materials:
1 ball Muench Touch Me (I used the entire ball. Your results may vary!)
72% Viscose, 28% New Wool
61 yards/50 grams
Size 7 US (4.5 mm) double points (You could go down a needle size, or knit tightly, to ensure you'll have enough yarn!)
Satin ribbon Gauge:
Not vital but knit at a tighter than normal gauge for this yarn. Instructions
Bag Base
CO 5 sts. Make sure sts aren't twisted. Join and mark beg of round.
Rnd 1: Knit
Rnd 2: (K1, M1) to end.
Rnd 3: Knit
Rnd 4: (K2, M1) to end.
Rnd 5: Knit
Rnd 6: (K3, M1) to end.
Rnd 7: Knit
Continue increasing in the manner until you have 60 sts (or until bag base is as big as you want it.) Bag Body
Knit every round until bag is 5" tall (not including base. I "sat" the bag flat on a table and measured the height as best I could. You can make the bag taller or shorter if you wish.
Next round: (k2tog, yo) around.
Knit 6 more rounds.
Next round: Knit in front and back of every stitch.
BO. I used a satin ribbon as the drawstring, threading it through every other eyelet hole.
Voila! Now you have a sexy little trinket bag! ©Rachel Calado. Please share, but do not publish or profit from the use or distribution.
Visit Rachel's blog knittyknotty at http://knittyknottyblog.blogspot.com See Abbreviations and the Glossary for help.