---
---
Free Patterns
Babies/Kids
Adult Clothing
Other Patterns
---
Knitters Will Love...
---
Shimmering Metallic Knit Bag For Evening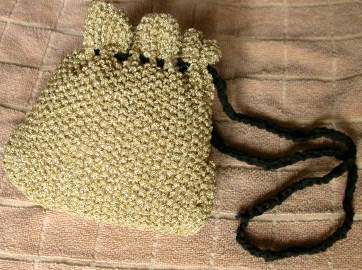 If you're going someplace fancy for the evening or to a wedding, this purse fits the bill with the shimmering metallic yarn. Gauge:
20 sts=4" Materials:
Size 6 US(4.25 mm) needles or size to obtain gauge
Soiree by Crystal Palace Yarns
1 ball Color #3620 Gold
60% metallic polyester/40% polyamide
50 grams/160 yards/146 meters
Deco-Ribbon by Crystal Palace Yarns, rattail or other cord for closure
1 ball Color #321 Black
30% nylon/70% acrylic
50 grams/80 yards/73 meters Instructions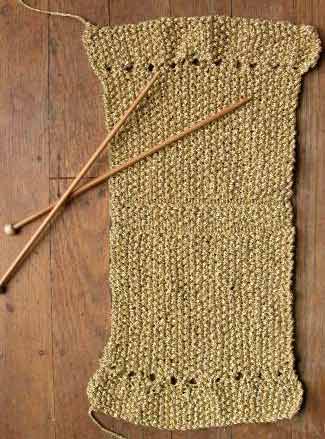 CO 39 sts.
Work in seed st for 1½". Dec 10 sts evenly across next row:
k2tog every 3-4 sts [29 sts] Work 9-10 eyelet sts evenly across next row:
approx every 3 sts k2tog, YO Return to working seed st on rem 29 sts.
Work seed st for 5 inches.
Work 2 rows in St st (turning rows at bottom of bag).
Work in seed st for 1 inch (bottom of bag).
Work 2 rows in St st (match to previous 2 St st rows so purl side is on same side). Now you are working the 2nd side of bag.
Work 5 inches in seed st.
Work 9-10 eyelet sts as you did previously.
Inc 10 sts evenly across row [39 sts].
Work in seed st for 1.5 inches.
BO in seed st.
Leave a 12-14" tail for sewing side seam. Wedges At Bottom Corners If Desired
If you want the bottom of your little bag to have a pouchy bottom, you may want to add the little wedges to add shape. If you want just a flat bag, skip this part and sew the sides without the wedges.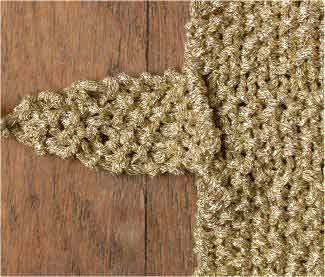 Wedges On Each Side Of Bag Bottom
On outside of bag (between the purl rows of the turning rows) pick up 6 sts across the bottom inch and work 6 rows in seed st.
K2tog, work rem sts in seed st [4 sts].
Work 2 rows seed st.
K2tog twice [2 sts].
K2 tog and fasten off. Sew Bag Sides
[Note that Soiree is quite slippery, so you may need to knot several times when ending stitching.]
Bag was sewn inside out for neater seams. Fold bag so turning rows at bottom are knit-side out (bag is inside out since purl side turning rows are the outside of bag). Pin to match tops and along side to help you stitch evenly.
First sew one side of wedge to bag side. Then sew entire side and 2nd side of wedge.
Do this for both sides of bag.
Turn bag right side out.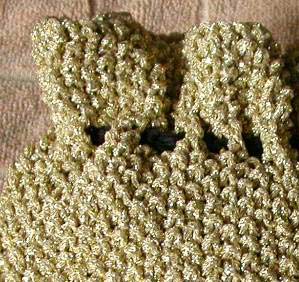 Cord Closure
I used a crochet hook size H to chain a cord from 5 yards of black Deco-Ribbon. Thread it through the eyelets and crochet the ends tog. You could make two loops for a double closure instead. Or, use rattail, I-Cord or any other type of closing cord you desire. ©Crystal Palace Yarns and used with their permission. See Abbreviations and the Glossary for help.