---
---
Free Patterns
Babies/Kids
Adult Clothing
Other Patterns
---
Knitters Will Love...
---
Felting Knitting Pattern For A Purse
Designed by Barbara Breiter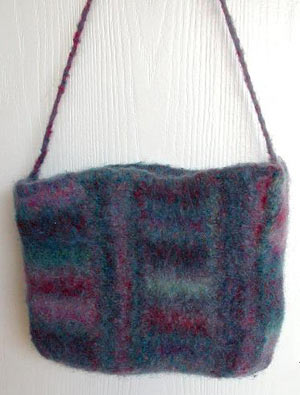 This felting knitting pattern for a purse features self striping yarn. It is knit in pieces to take advantage of the striping effect and then seamed together. The result is colorful stripes in two directions that looks so much more complex than it really is! Size:
Before felting: 12" wide x 12" long x 2" deep
After felting: approx 7½" wide x 6½" long x 1½" deep Gauge:
4.25 sts and 5 rows=1" in St st Materials:
Size 10.5 US (6.5 mm) needles or size needed to obtain gauge
Size J-10 (6 mm) crochet hook
Snap
Taos by Crystal Palace Yarns
2 balls - Color 06 Albuquerque
100% wool
50 grams/1.75 ounces
128 yds/118 meters See this listing for a shop near you. Instructions Front
Piece 1:
CO 13 sts. Work in St st 12" or 60 rows. BO.
With RS facing, along side edge pick up 54 sts.
Work in St st 3" or 15 rows. BO.
Piece 2:
Same as Piece 1. Seam Piece 1 to Piece 2 along long side. Back
Work as for Front. Bottom Panel
Determine which direction you want Front and Back to face.
Along bottom edge of either Piece, with RS facing pick up 54 sts.
Work in St st 2" or 10 rows. BO.
Seam other Piece to Bottom Panel, matching direction chosen for first Piece (or not if you wish). Side Panels
Along side of Bottom, with RS facing pick up 11 sts. Work in St st 12" or 60 rows. BO.
Rep on other side. Finishing
Seam Side Panels to Front and Back.
Work 1 rnd single crochet around top edge.
Weave in ends on WS. Handle
Divide remaining yarn into thirds. Tie together one end. Twist (but don't overtwist so it kinks) and tie the other end. Seam each end to middle inside of each Side Panel. Felt
Put the bag in the washer along with a pair of jeans or canvas tennis shoes. Use a small amount of detergent and a low water level with a hot temperature. Wash for five minutes. Stop the cycle and check to see if is felted as tightly as desired; the longer you wash it, the smaller and more felted it will become. If the bag is not quite felted enough, continue washing and carefully check every few minutes. When felted, remove and rinse in cold water. Blot with towel. Top edges will be somewhat scalloped. You can leave these or shape the bag; the fabric will still be malleable so don't be afraid to pull it in various directions. Once it is the desired size and shape, you can stuff it with plastic bags or styrofoam blocks if needed. Allow to dry completely. Sew on snap. ©Barbara Breiter. This design may not be reproduced in any manner without the expressed written consent of the author. See Abbreviations and the Glossary for help.
---
Also see Knit A Bit, for bag patterns by Barbara Breiter
---