---
---
Free Patterns
Babies/Kids
Adult Clothing
Other Patterns
---
Knitters Will Love...
---
Felted Op Art Bag Knitting Pattern
Designed by Barbara Breiter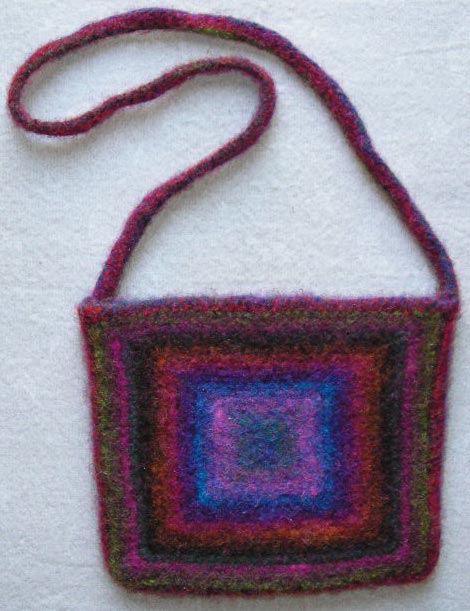 The op art design is a result of the yarn Noro Kureyon which has many color changes. Multiple decreases cause the fabric to move, forming corners. There is a small seam in the middle upon completion. Size:
12" wide x 12" long before felting
Approximately 10" wide x 8½" long after felting Gauge:
13 sts and 24 rows=4" in garter stitch Materials:
Size 10½ US (6.5 mm) 29" circular needles or size needed to obtain gauge
3 skeins Kureyon by Noro - Color #134
100% wool
100 meters/109 yards
50 grams/1.75 ounces
Snap. Instructions
Make 2
Either side can be the RS. Mark with a safety pin as desired.
CO 160 sts.
Row 1: K
Row 2 (decrease row): Ssk, (k37, k3tog) 3 times, k36, k2tog - 152 sts
Row 3: K
Row 4: Ssk, (k35, k3tog) 3 times, k34, k2tog - 144 sts
Cont in this way, alternating knit row with decrease row, knitting 2 less sts between decreases every decrease row.
When 8 sts rem, k 1 row.
Next row: Ssk, (k2tog) 3 times.
Cut yarn, leaving a long tail. Thread tail through sts on needle and slip off. Sew seam with tail. Handle
CO 135 sts.
BO. Finishing
Seam back and front together on 3 sides. Sew handle on inside seam. Weave in ends on WS.
Felt
Bag as shown was felted for 28 minutes. Put the bag in the washer along with a pair of jeans or canvas tennis shoes. Use a small amount of detergent and a low water level with a hot temperature. Wash for five minutes. Stop the cycle and check to see if is felted as tightly as desired; the longer you wash it, the smaller and more felted it will become. If the bag is not quite felted enough, continue washing and carefully check every few minutes. When felted, remove and rinse in cold water. Blot with towel. Shape the bag; the fabric will still be malleable so don't be afraid to pull it in various directions. Allow to dry completely.
Cut off fuzz. Sew on snap. ©Barbara Breiter. This design may not be reproduced in any manner without the expressed written consent of the author. See Abbreviations and the Glossary for help.
---
Also see Knit A Bit, for bag patterns by Barbara Breiter
---