---
---
Free Patterns
Babies/Kids
Adult Clothing
Other Patterns
---
Knitters Will Love...
---
Easy Colorful Felted Bag Knitting Pattern
Designed by Barbara Breiter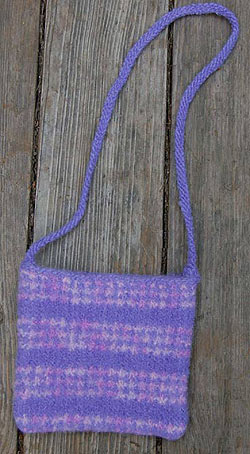 This knitting pattern for a felted bag is very easy to knit. A simple slip stitch pattern adds a lot of interest for such an easy to knit project! Size:
Approximately 8.5" wide x 9.5" long before felting
Approximately 7" wide x 6.5" long after felting Gauge:
15.5 sts and 20.5 rows=4" over pattern st Materials:
Size 10 US (6 mm) straight needles or size needed to obtain gauge
Fjord by Crystal Palace Yarns
1 ball - Color #9628 Periwinkle (Color A)
1 ball - Color #9508 Faded Lilacs (Color B)
100% wool
50 grams/1.75 ounces
91 yds/84 meters
Snap See this listing for a shop near you. Instructions Pattern Stitch
Note: Slip all sts as if to p
Row 1 (RS): With Color B, k1, *sl 1 wyib, k1; rep from *
Row 2: With Color B, purl
Row 3: With Color A, k1, *sl 1 wyib, k1; rep from *, end k1
Row 4: With Color A, purl With A, CO 35 sts.
Work Pattern Stitch Rows 1-4 3 times.
With A, work in St st 4 rows. Repeat above 5 more times. Work Pattern Stitch Rows 1-4 3 times.
BO with A. Handle
With A, CO 120 sts. K 1 row. BO. Finishing
Fold in half (CO edge to BO edge). Seam sides. Sew handle to side seams. Weave in ends on WS. Felt
To felt, throw it in the washing machine with a pair of jeans or old canvas tennis shoes. Use a small amount of detergent and a low water level with a hot temperature. Wash for five minutes. Stop the cycle and check to see if is felted as tightly as desired; the longer you wash it, the smaller and more felted it will become. If the bag is not quite felted enough, continue washing and carefully check every few minutes. When felted, remove and rinse in cold water. Blot with towel. Shape the bag; the fabric will still be malleable so don't be afraid to pull it in various directions. Once it is the desired size and shape, you can stuff it with plastic bags if needed. Allow to dry completely. Sew on snap. ©Barbara Breiter. This design may not be reproduced in any manner without the expressed written consent of the author. See Abbreviations and the Glossary for help.
---
Also see Knit A Bit, for bag patterns by Barbara Breiter
---