---
---
Free Patterns
Babies/Kids
Adult Clothing
Other Patterns
---
Knitters Will Love...
---
Felt Cell Phone Case Knitting Pattern
Designed by Barbara Breiter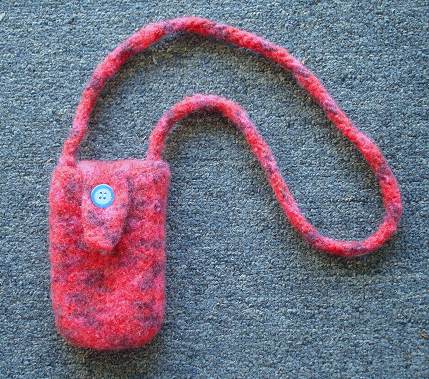 Simple to knit, this case will hold a cell phone plus a few other smaller items. Knit it an evening with one skein! Size:
Prefelted: 3.5" wide x 7" high x 1.25" deep
Felted: Approximately 2.5" wide x 5.5" high x 1" deep
Gauge:
Over stockinette 10 sts=4 inches
Materials:
Size 15 (US) (10 mm) straight needles or size needed to obtain gauge
Button
Yarn:
1 skein Iceland by Crystal Palace Yarns
Color 9579 Red Orchid
100% wool
100 grams/3.5 ounces
109 yds/100 meters Instructions CO 9 sts.
Work in st st for 16". Begin dec for flap closure. Row 1 (RS): k1, SSK, k3, k2tog, k1
Row 2: P
Row 3: K
Row 4: P
Row 5: k1, SSK, k1, k2tog, k1
Buttonhole:
Row 6: p3, BO next st, p1
Row 7: k2, yo, k2
Row 8: P
Row 9: K
Row 10: P
Row 11: SSK, k1, k2tog
Row 12: P BO. Side Panels
Measure middle 2" between the the cast on edge and the point you began dec and mark. Pick up 4 sts. Work in st st for 7". BO. Repeat for other side. Finishing
Sew side panels to body, half st in. Handle
CO 90 sts. BO. Sew handle to inside middle of side panels near the top. Weave in ends on WS. Felt
To felt, throw it in the washing machine with a pair of jeans or old canvas tennis shoes. Do not use towels as the lint can embed in the project. If you have a zippered lingerie bag, place it in the bag. Use hot water and a small amount of detergent. Check after 3 minutes and continue the wash cycle if needed, checking every 2 minutes. If buttonhole begins to felt together, pull apart. You can also cut a buttonhole after it's felted (it won't unravel at that point). When felted, rinse in cool water, shape, and dry flat. Sew on button. ©Barbara Breiter. This design may not be reproduced in any manner without the expressed written consent of the author. See Abbreviations and the Glossary for help.
---
Also see Knit A Bit, for bag patterns by Barbara Breiter
---