---
---
Free Patterns
Babies/Kids
Adult Clothing
Other Patterns
---
Knitters Will Love...
---
Felted Intarsia Blocks Flap Purse Knitting Pattern
Designed by Barbara Breiter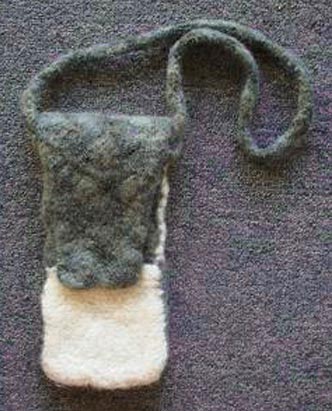 This felted purse knitting pattern utilizes a technique called intarsia. Each block of color is knit with one ball of yarn across every row. Because there are only two blocks, this is a good introduction to intarsia knitting if you've never tried it. Size:
Prefelted: 6½" wide x 11½" long
Felted: Approximately 4½" wide x 8½" long Gauge:
10 sts and 14 rows=4" in St st Materials:
Size 15 US (10 mm) straight needles or size needed to obtain gauge
Labrador by Crystal Palace Yarns
100% Australian soft wool
82 meters/90 yards
100 grams/3.5 ounces
1 ball Color #1058 New Snow (Color A)
1 ball Color #7261 Jaguar (Color B) Instructions Note: To prevent holes, pick up new color from behind old color. If you do this incorrectly, it will be obvious within 2 sts. With Color A, CO 14 sts; with Color B, CO another 14 sts.
Knit in St st 7". Cut yarn.
Reverse Colors A and B and knit in St st 7".
BO. Seam CO edge to BO edge.
Seam one other end for bottom. Flap
With RS facing, pick up 20 sts evenly along one open edge with either Color A or B (your choice).
Knit in St st, beg with a purl row.
Dec 1 st at each end every 6th row 4 times.
Work 6 rows even.
BO. Handle
With Color A or B (your choice), CO 90 sts. K 1 row. BO. Finishing
Sew handle to inside seam.
Weave in ends on WS. Felt
To felt, throw it in the washing machine with a pair of jeans or old canvas tennis shoes. Do not use towels as the lint can embed in the project. If you have a zippered lingerie bag, place it in the bag. Use hot water and a small amount of detergent. Check after 3 minutes and continue the wash cycle if needed, checking every 2 minutes. When felted, rinse in cool water, shape, and dry flat. ©Barbara Breiter. This design may not be reproduced in any manner without the expressed written consent of the author. See Abbreviations and the Glossary for help.
---
Also see Knit A Bit, for bag patterns by Barbara Breiter
---