---
---
Free Patterns
Babies/Kids
Adult Clothing
Other Patterns
---
Knitters Will Love...
---
Densely Knit Bag Knitting Pattern
Designed by Barbara Breiter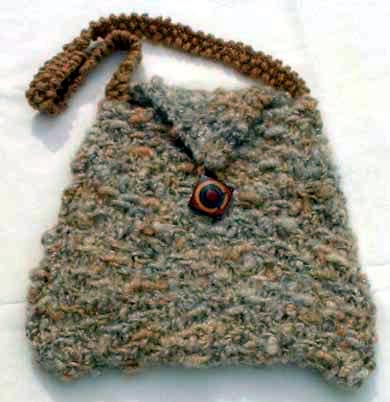 The pattern stitch used is very dense, thus eliminating the need for a lining. Using a boucle yarn, the pattern itself won't show (and neither will mistakes!). Size:
About 11" wide at the bottom x 10" long Gauge:
12 sts=4" in pattern stitch Materials:
Size 11 US (8 mm) needles or size to obtain gauge
About 150 yards of a bulky, textured or loopy boucle type yarn. Berroco Chinchilla, Red Heart Light & Lofty, Classic Elite Commotion, and Lion Brand Homespun are examples of what you might use.
If desired, a small amount of bulky smooth contrasting yarn for the handle.
One big button
Blunt needle Instructions: Pattern Stitch
Row 1 (RS): k2, *sl2 wyif, k2; rep from *
Row 2: p1, *sl2 wyib, p2; rep from *, end p1
Row 3: sl2 wyif, *k2, sl2 wyif; rep from *
Row 4: p3, *sl2 wyib, p2; rep from *, end last rep p1 instead of p2
Rows 5-12: Rep rows 1-4 twice
Row 13: Rep row 3
Row 14: Rep row 2
Row 15: Rep row 1
Row 16: Rep row 4
Rows 17-24: Rep rows 13-16 twice Body
CO 24 st. This includes 22 stitches of the stitch pattern plus 2 selvedge sts used for seaming. You can k the first st and slip the last st of every row, k the first and last st of every row or use any other selvedge st you wish.
Begin working pat.
Keeping to pat, inc 1 st at each end every 8th row 4 times (32 sts).
Cont in pat as established until piece measures 11.5" total.
Keeping to pat, dec 1 st at each end every 8th row 4 times (24 sts).
Work even for another 8 rows. Mark each side of row. Flap
Keeping to pat, dec 1 st at each end every other row 10 times (4 sts).
P one row.
K2tog twice.
P2tog. Cut yarn and draw through loop. Closure Loop
Use tail from flap as a loop over a button to close. You can also use I-Cord or a crochet chain. If you knit the handle from different yarn, you can also use a loop of that yarn as a closure. Sew loop in place. Handle
With same or different yarn, CO 3 st.
K1, P1, K1.
Rep to desired length. I-Cord would also make a nice handle. Finishing
Fold piece and match beginning of piece to where you placed the markers. Sew side seams. Attach button and handle. ©Barbara Breiter. This design may not be reproduced in any manner without the expressed written consent of the author. See Abbreviations and the Glossary for help.
---
Also see Knit A Bit, for bag patterns by Barbara Breiter
---