---
---
---
Free Patterns
Babies/Kids
Adult Clothing
Other Patterns
---
Knitters Will Love...
---
Baby Mittens Knitting Pattern
Designed by Betty Semlak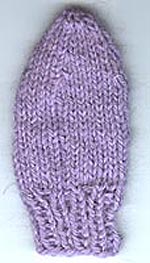 One mitten has an opening so a baby can suck his thumb while wearing the mittens. They are quick to knit and worsted weight yarn gives enough heft to warm tiny hands. Gauge:
20 sts=5" with larger needles in St st Materials:
Worsted weight yarn
Size 3 US (3.25 mm) double pointed needles Size 5 US (3.75 mm) double pointed needles Instructions
With smaller needles, CO 20 sts. Divide evenly over 4 needles and join. Make sure sts aren't twisted.
Work k1, p1 ribbing for 1 inch.
Change to larger needles and knit, inc 4 sts in the first row (24 sts).
Knit in St st for 2 inches above ribbing.
Dec 4 sts evenly (20 sts).
Knit 3 rounds.
Dec 5 sts evenly (15 sts).
Knit 3 rounds.
Dec 7 sts evenly (8 sts).
Knit one round.
Break yarn and run though sts pull tightly. On one mitten, at one inch above the ribbing, BO 5 stitches at the beginning of the round. CO 5 sts over them in the next round and continue as above. When finished, slip stitch around the opening. Attach yarn inside cuff of one mitten and crochet a chain long enough to run through the sleeves of his coat; attach the end to the cuff of the second mitten. This is inside the coat, so I think it is safe. If it bothers you, attach them to the coat sleeves instead with a very short chain. Photo ©Sarah Bradberry and used with her permission. See Abbreviations and the Glossary for help.