---
---
Free Patterns
Babies/Kids
Adult Clothing
Other Patterns
---
Knitters Will Love...
---
Easy Hooded Baby Blanket Knitting Pattern
Designed by Barbara Breiter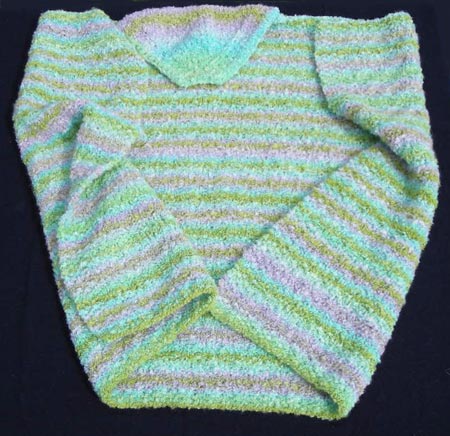 The Diagonal Rib stitch pattern used in this easy to knit baby blanket is somewhat obscured by the boucle yarn (you can see a sample knit in smooth yarn here). Although you could knit this portion in stockinette, the stitch pattern used adds stability so it's not quite as giving and stretching as stockinette. It knits up fast in a very bulky yarn. The hood is, of course, optional. Size:
41" wide x 30" long Gauge:
11 sts=4" in pattern stitch Materials:
Size 10 US (6 mm) 29" circulars
Optional:
Size 10 US (6 mm) straight needles
Size K-10.5 crochet hook
Yarn Bee Boucle Traditions Double Boucle
4 skeins color 252 Minty
94% acrylic/6% polyester
150 yards/138 meters
115 grams/4 ounces Instructions
Diagonal Rib Pattern Stitch:
Multiple of 4
Row 1: *k2, p2; rep from *
Row 2: Rep Row 1
Row 3: k1, *p2, k2; rep from *, end p2, k1
Row 4: p1, *k2, p2; rep from *, end k2, p1
Row 5: *p2, k2; rep from *
Row 6: Rep Row 5
Row 7: Rep Row 4
Row 8: Rep Row 3
Rep Rows 1-8. Seed Stitch Pattern Stitch:
Row 1: *k1, p1; rep from *
Row 2: As they face you, k the p's and p the k's. CO 114 sts.
Work 4 rows Seed St. Work first and last 5 sts in Seed St, and the center 104 in Diagonal Rib. Cont for 29" or desired length. Work 4 rows Seed St. BO. Hood
With straight needles, CO 40 sts.
Work Seed St over first and last 3 sts and St st over rem center 34 sts:
Row 1 (RS): k1, p1, k1, k34, k1, p1, k1
Dec 1 st at end of ever row, inside seed st border.
Row 2: k1, p1, k1, p32, p2tog, k1, p1, k1
Row 3: k1, p1, k1, k32, k2tog, k1, p1, k1
Cont in this manner until 8 sts rem. BO. Finishing
Center CO edge of Hood to CO edge of blanket and seam. If desired, work 1 rnd of single crochet around hood. Weave in ends on WS. ©Barbara Breiter. This design may not be reproduced in any manner without the expressed written consent of the author. See Abbreviations and the Glossary for help.
---
Also see Knit A Bit, for patterns by Barbara Breiter
---