---
---
Free Patterns
Babies/Kids
Adult Clothing
Other Patterns
---
Knitters Will Love...
---
Square Diagonal Afghan Knitting Pattern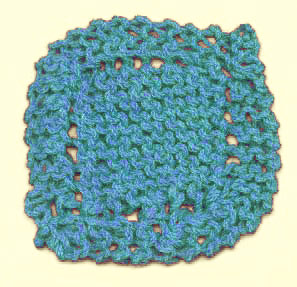 This knitting pattern is knit diagonally. It knits up square so you could use this for a simple to knit dishcloth. It can be knit to any size with any yarn that is appropriate to the size of the needles.
Instructions: CO 4 sts.
Rows 1-3: k
Row 4: k1, k into the front and back of the next two sts, k1-6 sts
Row 5: sl1, k2, yo, k rem sts Rep Row 5 until piece is desired width. sl1, k rem sts You will have a triangle and will now be turning the corners. Row 1: sl1, k1, k2tog, yo, k2tog, k rem sts Rep Row 1 until 5 sts rem.
sl1, k1, k2tog, k1
BO. ©Barbara Breiter. This design may not be reproduced in any manner without the expressed written consent of the author. See Abbreviations and the Glossary for help.