---
---
Free Patterns
Babies/Kids
Adult Clothing
Other Patterns
---
Knitters Will Love...
---
Yarn Weights, Suggested Stitches Per Inch, and Needle Sizes
by Barbara Breiter The thickness or thinness of a yarn is referred to as the yarn weight. Each weight has various names depending on what country you live in. Ply, in this case, does not refer to the number of strands that make up the yarn as it is spun together; rather, it is a term used in the UK and Australia to refer to how thick or thin the yarn is. Here are terms used to refer to these weights of yarn in addition to the suggested gauge for each weight and the appropriate needle size.
Weight
Sts Per 4" (10 cm)
Suggested Needles
Category 1
Superfine
Fingering
Baby
4 Ply
28-32
0-3 US
2-3.25mm
Category 2
Fine
Sportweight
5 Ply
24
3-6 US
3.25-4.25mm
Category 3
Light
DK
8 Ply
22
4-6 US
3.50-4.25mm
Category 4
Medium
Worsted
10 Ply
20
6-9 US
4.25-5.50mm
Heavy Worsted
Aran
12 Ply
16-18
8-10 US
5-6mm
Category 5
Bulky
Chunky
13 Ply
12-14
10-11 US
6-8mm
Category 6
Super Bulky
14 Ply
8-10
11-15 US
8-10mm
Need more knitting instructions?
Knitting Help: Learn to Knit
The Complete Idiot's Guide To Knitting
& Crocheting (3rd edition)
by Barbara Breiter & Gail Diven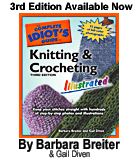 Available in book stores everywhere.
Order from Amazon now!
List Price: $16.95 Amazon Price: $11.87




The Complete Idiot's Guide To Knitting and Crocheting, has been a world wide best seller. The third edition was published September, 2006 and is available in bookstores everywhere. Information on the book and a preview of the patterns included is available at Knit A Bit.