---
---
Free Patterns
Babies/Kids
Adult Clothing
Other Patterns
---
Knitters Will Love...
---
Learn To Knit
How To Understand Knitting Patterns
by Barbara Breiter Knitting patterns are written using abbreviations. They also use a code involving parentheses and asterisks. Once you understand how to read a pattern, it is actually easier to understand than if every instruction was written out in full. A knitting pattern will give you basic information you need to know before you can start knitting. It will give you information about the yarn that was used to knit the project. In most cases, it will tell you the name and color, the number of balls or skeins, the fiber content, and the number of ounces and/or grams and yards and/or meters per skein. The information is helpful if you'd like to substitute yarns. The pattern will also give you the gauge you will need to work to in order for the project to be the indicated size. Most times you will also see a row gauge but sometimes not. It will also tell you if the gauge swatch was worked over a particular pattern stitch. If none is given, assume the gauge is measured in stockinette. If you are knitting a garment that fits more than one size, you will see information about this; increasing sizes are shown in parenthesis. As you look through the pattern, you'll see that various instructions are given in parenthesis; they appear in the same order as the sizes. You will also see a needle size shown. Please be aware that these are only the estimated needle sizes you will need. They are only the size needle that the designer used to achieve the gauge of the pattern with that particular yarn. When you see an asterisk or *, it means you are to repeat something. For example:
k3, *p1, k1; rep from *, k3 This means you would knit 3 stitches to begin. Then purl 1 and knit 1. Repeat this across the entire row until you get to the last 3 stitches and then knit those 3 stitches. Imagine you were knitting 106 stitches. This one row of knitting if written out entirely would be extremely long and confusing. This is why abbreviations are so useful. When you see parentheses, it also means you are to repeat something but in a slightly different way. For example:
k2, *(p1, k2) twice, p1, k1; rep from *, end p1 To begin, knit 2 stitches. Everything in parentheses is worked two times. So you would purl 1, knit 2, then purl 1 and knit 2 again. Then go on to purl 1 and knit 1. Because there is an asterisk as well, repeat everything from the asterisk across the entire row until you get to the last stitch. Then purl 1.


Need more knitting instructions?

Knitting Help: Learn to Knit




The Complete Idiot's Guide To Knitting
& Crocheting (3rd edition)
by Barbara Breiter & Gail Diven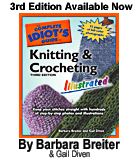 Available in book stores everywhere.
Order from Amazon now!
List Price: $16.95 Amazon Price: $11.87




The Complete Idiot's Guide To Knitting and Crocheting, has been a world wide best seller. The third edition was published September, 2006 and is available in bookstores everywhere. Information on the book and a preview of the patterns included is available at Knit A Bit.