---
---
---
Free Patterns
Babies/Kids
Adult Clothing
Other Patterns
---
Knitters Will Love...
---
Learn To Knit
Knit Into The Stitch Below A knitting pattern may ask you to knit into the stitch below the next stitch; if you knit into the stitch in the row below without working into the next stitch as well, you will not have increased. There are times this is called for and it produces a stitch that pulls up and elongates and provides a rich texture. To work the increase version of this, which is almost invisible, you would knit into the stitch below as well as the next stitch, thus creating a new stitch. Because this increase elongates the piece, do not use it more than one time every four rows or so. Although it is invisible, you should not substitute it for other increases called for in a pattern. You are literally working into the stitch in the row below. Look carefully and insert the right needle into the center of this stitch. Then work the knit stitch as you normally would. The only difference is where you are inserting the needle.


Need more knitting instructions?

Knitting Help: Learn to Knit




The Complete Idiot's Guide To Knitting
& Crocheting (3rd edition)
by Barbara Breiter & Gail Diven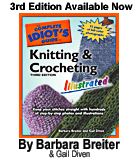 Available in book stores everywhere.
Order from Amazon now!
List Price: $16.95 Amazon Price: $11.87




The Complete Idiot's Guide To Knitting and Crocheting, has been a world wide best seller. The third edition was published September, 2006 and is available in bookstores everywhere. Information on the book and a preview of the patterns included is available at Knit A Bit.