---
---
Free Patterns
Babies/Kids
Adult Clothing
Other Patterns
---
Knitters Will Love...
---
Learn To Knit
Bind Off (BO)-sometimes seen as Cast Off In order to remove your knitting from the needles so it doesn't unravel, you need to bind off. You will find there are other times you need to bind off as well, such as with shaping items and buttonholes. The British term is cast off and you may see that instruction. It means exactly the same thing. To begin, knit the first two stitches.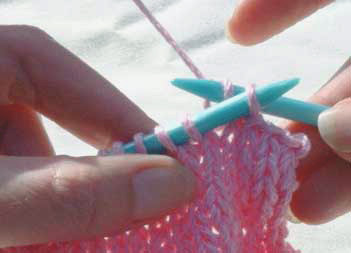 Insert your left needle from left to right into the front loop of the first stitch on the right needle. Pull this stitch over the second stitch and off the right needle. You have now bound off one stitch and will have one stitch left on the right needle. Now knit one stitch again. You will have two stitches on the right needle just as you did the first time. Repeat the process as above and you've bound off a second stitch. One stitch will remain on the right needle. Continue in this same way until you have bound off the number of stitches your pattern tells you to. You may see the term BO in pattern.


Need more knitting instructions?

Knitting Help: Learn to Knit




The Complete Idiot's Guide To Knitting
& Crocheting (3rd edition)
by Barbara Breiter & Gail Diven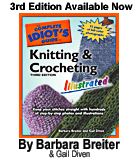 Available in book stores everywhere.
Order from Amazon now!
List Price: $16.95 Amazon Price: $11.87




The Complete Idiot's Guide To Knitting and Crocheting, has been a world wide best seller. The third edition was published September, 2006 and is available in bookstores everywhere. Information on the book and a preview of the patterns included is available at Knit A Bit.