---
---
Free Patterns
Babies/Kids
Adult Clothing
Other Patterns
---
Knitters Will Love...
---
Learn To Knit
Beginner Knitting Stitches These are the knitting stitches or stitch patterns all beginners must learn once you have learned to knit and purl. They are essential and you will use them countless times. Stockinette (also known as stocking stitch, stockinette stitch)
Abbreviated St st, when knitting back and forth knit one row, purl one row. Continue in this manner. When knitting in the round, knit every round. Reverse Stockinette (also known as reverse stocking stitch, reverse stockinette)
This is abbreviated Rev St st. It is worked exactly the same as stockinette. The only difference is which side is considered to be the right side (the side that will face the public). In this case, it is the purl or bumpy side that is considered the right side. Garter Stitch
When knitting back and forth, knit every row.
When knitting in the round, knit one round and purl the next round.


Need more knitting instructions?

Knitting Help: Learn to Knit




The Complete Idiot's Guide To Knitting
& Crocheting (3rd edition)
by Barbara Breiter & Gail Diven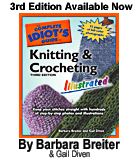 Available in book stores everywhere.
Order from Amazon now!
List Price: $16.95 Amazon Price: $11.87




The Complete Idiot's Guide To Knitting and Crocheting, has been a world wide best seller. The third edition was published September, 2006 and is available in bookstores everywhere. Information on the book and a preview of the patterns included is available at Knit A Bit.