---
---
Free Patterns
Babies/Kids
Adult Clothing
Other Patterns
---
Knitters Will Love...
---
Designing Your Own Scarf Pattern

by Barbara Breiter You too can be a knitting designer! There really is nothing at all to knitting a scarf and you don't need a special pattern unless it's a little out of the ordinary. But you will need to know a few basic concepts. How Many Stitches Do I Cast On?
This is where you begin designing. The answer to how many stitches you cast on depends on the gauge you will be working at, the pattern stitch you will use, and the width you want the scarf to be. Everything in knitting always begins with gauge. You can guess if you wish (as the gauge will not be vital in a scarf) or use the suggested gauge and needle size on the yarn label. You'll need to figure out how many stitches per inch you are getting after working a gauge swatch or from the label information. Stitches per inch x desired width=number of stitches to cast on. If you want to knit a scarf that is 5 inches wide and you will be knitting at 5 stitches to the inch, you would cast on 25 stitches because 5x5=25. It's that simple. The width of the scarf is your choice. Most scarves are between 6 and 8 inches. Yours can be skinnier or wider. There is no right or wrong. You might consider using a stitch pattern for your scarf. Reversible stitch patterns are wonderful choices for this because they look the same on both sides (or are mirror images) so both sides of your scarf will look nice. Consider the multiple of the repeat in your stitch pattern as this will impact the number of stitches you must cast on to begin. A multiple of 5 stitches means you should cast on any number of stitches that is divisible by 5. A multiple of 6 + 1 means you should cast on any number of stitches that is divisible by 6 plus 1 extra stitch. Rolling Sides
The sides of your scarf are rolling inward and you have what resembles a 7 foot long tube. What did you do wrong? Stockinette rolls. You can't stop it. It's the nature of the fabric that is produced when you knit one row and purl the next. If you really just have to knit a stockinette scarf, you can solve this problem most times by adding 3 to 5 seed or garter stitches to border the beginning and end of each row; also work four to six entire rows at the beginning and end. Or work the entire scarf in seed stitch or garter stitch and it won't roll at all. Even better, get creative and use of the literally thousands of very lovely stitch patterns that will lie flat. How Long Do I Make It?
This is your personal choice and preference. There are scarves 10 feet long that are wrapped twice around your neck and still hang down to your knees. Or you can knit a short scarf about 3 feet long that will just tuck around your neck for a more classic look. How Much Yarn Do I Need?
This is where you have to wing it. You don't have a pattern to follow so no one has knit it up and tested it for you. If you're willing to just knit until you run out, try two skeins. If you want a long one, you may need four or five. Use Two Different Yarns
You can combine two or more different yarns and knit with two strands held together throughout. This creates a one of a kind scarf and you've created a unique yarn at the same time.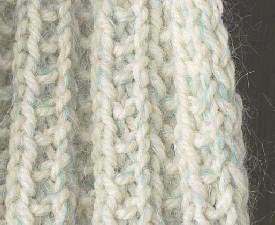 Here is an example of two different yarns knit together. A neutral wool was knit with a very thin turquoise mohair throughout. The look is entirely different than if either of the yarns alone had been used. The scarf also reflects how a stitch pattern can enhance the look of a scarf. Try An Eyelash Yarn
Eyelash and other novelty yarns are very popular for scarves. There is a huge variety available which you can knit with alone or combine with smooth yarns. The possibilities of various combinations is endless. Fancy stitch patterns get lost with very textured yarns so it's best to keep it simple. Here are 128 different scarf patterns, mostly knit with various novelty yarns. As you look at scarf, notice it's the yarn doing all the work.


Need more knitting instructions?

Knitting Help: Learn to Knit




The Complete Idiot's Guide To Knitting
& Crocheting (3rd edition)
by Barbara Breiter & Gail Diven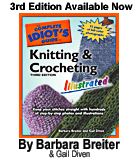 Available in book stores everywhere.
Order from Amazon now!
List Price: $16.95 Amazon Price: $11.87




The Complete Idiot's Guide To Knitting and Crocheting, has been a world wide best seller. The third edition was published September, 2006 and is available in bookstores everywhere. Information on the book and a preview of the patterns included is available at Knit A Bit.