---
---
Free Patterns
Babies/Kids
Adult Clothing
Other Patterns
---
Knitters Will Love...
---
How To Care For Hand Knits
by Barbara Breiter Having spent a lot of time, sweat, and tears (not to mention money) on your knitting projects, you want them to last for many years and look as good ten years later as the day you finished them. Storing sweaters is important. Never hang up a sweater as you will end up with stretched out shoulders and a dent from the hanger. To fold a sweater, lay it flat. Then fold in the arms then right third and the left third. Fold in half. Cedar chests are wonderful for wools; if you don't own one, there are cedar ships and balls available to chase away moths. Always check the yarn label and launder (or dry clean) according to label instructions. If you've used two different yarns, follow the instructions that are most restrictive. To wash by hand, fill the sink with tepid water and a small amount of shampoo. Let it soak for 20 minutes or so. Do not agitate the water by hand. Let it drain. Refill the basin and rinse. Continue until the water is clear. Let the water drain again and the sweater lay in the sink as a lot of water will drain from it. Roll the sweater in a towel to absorb water. Do not wring or twist. Sweater dryers made of screen are available and fairly inexpensive. It allows air to flow freely and sweaters dry faster. Lay it out on the screen and gently shape it and push in any ribbing, especially if a cotton yarn was used. Allow to dry completely.


Need more knitting instructions?

Knitting Help: Learn to Knit




The Complete Idiot's Guide To Knitting
& Crocheting (3rd edition)
by Barbara Breiter & Gail Diven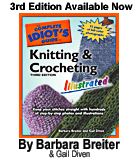 Available in book stores everywhere.
Order from Amazon now!
List Price: $16.95 Amazon Price: $11.87




The Complete Idiot's Guide To Knitting and Crocheting, has been a world wide best seller. The third edition was published September, 2006 and is available in bookstores everywhere. Information on the book and a preview of the patterns included is available at Knit A Bit.